5 Tips to Entertain Using Animation Without Offending
When pulling out all the stops to make your marketing innovative and outstanding, some markets can unintentionally be offended.
There is often a fine line between content which is funny or inspiring and that which some of your audience finds unpleasant.
There are certain things to bear in mind when making an animated video to avoid causing too much unintended controversy. Here are a few pointers.
Tip 1. Ensure Your Video Fits with Your Offering
When deciding on a concept and content for your animated video, context will make a difference to whether it is found to be offensive or not.
Put yourself into the mind of your typical consumer and consider what their perception might be. Then do the same for less typical potential customers.
Here, it is key that the content fits with both your product and your audience.
Some companies may choose to reach out to and entertain some sectors of the market at the cost of offending others. This is of course a matter for great consideration.
For a sensitive topic like sex, animation can be effective for putting the audience at ease. It can therefore be very useful to market condoms. In such case, it is important, however, to consider how you could offend some markets.
If you are promoting a financial service, such content in your animated advert is likely to attract far more offence, however.
In the case of condoms, marketers can avoid including the product in the advert at all. This is where animation can become very valuable. You can create an imaginative concept that draws viewers in, only introducing the product at the end. This can avoid any offence being caused.
You can intrigue your audience with imaginative or funny content that would not be achievable using live action video.
Tip 2. Consider the Placement of Your Video
Where you show your video will also make a difference to the impact it has.
This is particularly the case if your video might attract and influence younger minds.
Advertising with controversial material can be considered highly unethical by many consumers, whatever the product being marketed.
If you want to include controversial content, you may wish to reconsider the type of animation technique and style you use, so that kids are less attracted to it.
Tip 3. Animation Takes the Edge off Some Content
If you feel there is a need to include controversial or potentially offensive content in your marketing, animation can be fantastic for toning it down.
When trying to raise awareness of an important issue, there may be the need to highlight violence or drug taking in a video.
When animation is used to do so, this can dampen negative reactions. Animation takes a step away from reality and can focus on highlighting the important aspects while avoiding others. This means you can avoid being overly dramatic while still attracting attention.
An animated explainer video is also associated with learning, so viewers can see content as constructive rather than sensationalist.
When using animation in this way, it is important to consider the impact of not just the concept, but the images used. If this is done suitably, and they are used in an appropriate context, you can avoid causing offence.
In some cases, though, a concept will cause offence with some people whether it's animated or not. People with have different perceptions, and you may wish to weigh up how much of your audience will be affected.
Even something you consider to be mild aggression – a slap in the face from one girl to another – could be deemed violent and unacceptable by some viewers, whether in an animated awareness campaign or not.
Tip 4. Avoid Widely Offensive Content
Some material will be considered inappropriate by a high number of people no matter what you are marketing. These include bigotry and racism. Even with animation, it is difficult to mitigate offence when the concept is elevated to this level.
Extreme violence and abuse are also obvious offenders and considered a bad influence on children, so a negative reaction to violent cartoons can be expected.
Sexism has also become less accepted in the media, so you may wish to reconsider your image if you are using this kind of appeal.
Some marketers cause offence to one sex without intention, so look out for triggers. In animation there is an added risk when considering the types of characters used.
For example, making the protagonist a powerful male lion, and the female a submissive warthog could be considered sexist.
When considering characters, including cultural diversity can also avoid causing unintended offence.
But beware of undesirable associations between your multicultural characters and the characteristics you give them.
Satire and humour can still be achieved in an animation without causing widespread offence, as in the Compare the Market meerkat advertisements.
Some people online have voiced offence following this advert, so it may have alienated some markets. Remember that even if you don't get complaints, you may have lost some potential customers.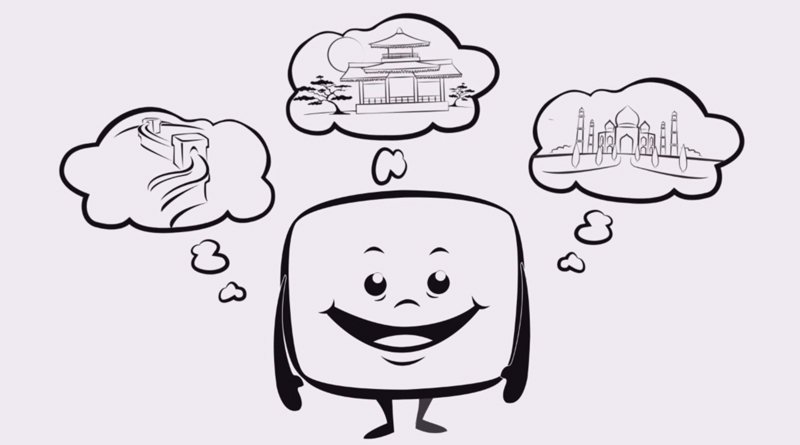 To avoid any negative associations, you may choose to use simple line drawings in your animated video. One of the great things about animation is you can be truly imaginative with your characters – they could be aliens or they could be geometrical shapes. Some animations need not even include characters.
Tip 5. Appeal to Your Target Audience
You may not mind mildly offending some people if they are not your target audience. Of course this is something to consider in depth as it can significantly affect your brand image.
Controversial and creative animated content that triggers emotions can often be useful when rational, functional-based differentiation of a product from competition is difficult.
When doing so, it is important to analyse your key market in detail so that you understand their common features – these might include physical, cultural or psychological characteristics.
Once you understand these, appealing with humour or other emotions can be more accurately achieved, s you are more likely to reach your objective.
When confronted by a buying decision, a consumer's characteristics affect how he/she is attracted to, perceives and reacts to marketing content.
There are four key sets of characteristics that affect behaviour here, and these are cultural, social, personal and physical. Give all these areas merit when creating your animated video and you can achieve a high-impact video that avoids offending potential customers.
In global markets, bearing all these factors in mind when making your animated video can be even more important.
With increasing competition across markets, and higher expectations from consumers, businesses need to be more aware of the many variables involved in how viewers perceive their marketing videos.
Creative risks can bring rewards, but they can also have negative impacts. It's important to consider all these elements we have highlighted so that your business doesn't stand out for the wrong reasons.
Which animated adverts have you found offensive? We'd love for you to tell us in the comments section below.
At our animation studio, we can help you to conceptualise and produce an animated video that makes your company stand ahead of the clutter without damaging brand image.
To discuss your business and animated video strategy with us, give us a call on 0208 891 2077.
This post has been written by Maite.
Related Posts