Google+ Hangouts on Air – The Benefits
Google+ Hangouts On Air (HOA) is a free platform through which businesses can hold video conferences with up to 10 participants and which can be viewed by an unlimited number of users.
This blog post looks at the benefits of using Google+ Hangouts On Air for the purposes of video marketing.
Benefit #1: Broaden your Audience through Shareable Invitations
The reason why Google + HOA is such hot news in the marketing scene is because it is a webinar service than runs free of charge, for both the host and the audience alike.
You can invite your followers on Google +, Facebook, Twitter, YouTube, etc and then by using the Google +Ripples app, you can gauge how far these invitations are shared by your followers to their contacts and so on. Like this:-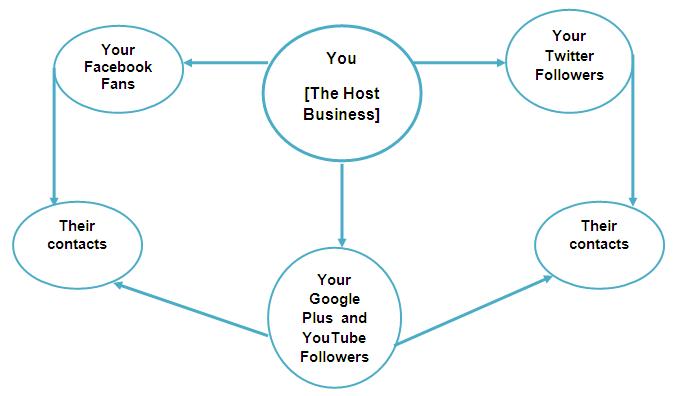 Benefit #2: Have Deep Interactions and Conversations with your Audience
All those who are watching the video conference can share their comments and remarks about it while 'On Air' as well as afterwards.
In this way, you can do the following far more effectively:-
Identify passionate subscribers and reward them for their efforts to communicate feedback that is valuable to your brand
Empower your customers with product knowledge and answer any questions they might have
Boost interactivity with your audiences and foster stronger Business-to-Consumer (B2C) relationships.
Benefit #3: Build Authenticity and Transparency into your Brand Values

Through the power of video, you can give credence to your brand, give faces to names for your audiences to recognise and identify with. While the bigger brands are identified by their brand names, smaller and medium businesses can either follow suit or choose to be identified by the people behind their brands.
By personifying your brands, you are showing your audience that you are putting your brand values into practice.
For example, if your business believes that it is an investor in people, then you can use a video broadcast on Google+ HOA to demonstrate how you invest in the people who work for your brand day in day out.
If your business has a product-centred approach, then you can have a video that is all about that particular product and get your audiences to interact with you on specific topics or issues that relate to that product.
Have a go and let us know what you think of Google+HOA. We will be there soon and look forward to seeing you joining us.
The post has been written by Maite.
Related Posts