How an Animation Can Boost Brand Image?
Branding is all about expressing the right mix of values and philosophy, and this can be done highly effectively with animation.
Animation is not only eye catching, but we usually associate it with enjoyment, so our mood often becomes heightened.
Our senses, in the meantime, become stimulated by the mixture of images, sounds, emotions and script in the animation.
This is a great start for getting ready to tell consumers about your brand.
A captivating story is an effective choice, as is a simplistic explainer video.
There are so many ways to express your brand or product with animation, in a way that builds trust, respect and shows off your corporate assets.
Here are a few ways you can give that brand image a boost with animated video.
Get Noticed
The first step to building your brand image is getting your brand out there.
Would you rather read a page of text or watch a short engaging animated film to learn about a new product or service?
Animation can be very enjoyable to watch, and not only that, but the rich combination of images and sounds allow the content to appeal to a wider audience.
With only your imagination to hold you back, animation offers a world of potential for your marketing video.
Present a wild and fantastical world or use minimalistic, bright graphics to make your video bold and unique.
An attractive character that resonates with your target customer can make all the difference too.
If your choices are strong and fit well with your target market, this visual appeal can do wonders for your brand.
In fact, an attractive group of images, voiceovers, music and messages in an animated video can become synonymous with a brand.
The memory of your brands story and characters could entice people to your site even long after they have seen your video.
Emotional Response and Values
Triggering emotions is the next thing that animation is strong at, and this is important not just for hooking viewers and keeping them engaged, but also forming their lasting impressions of the brand.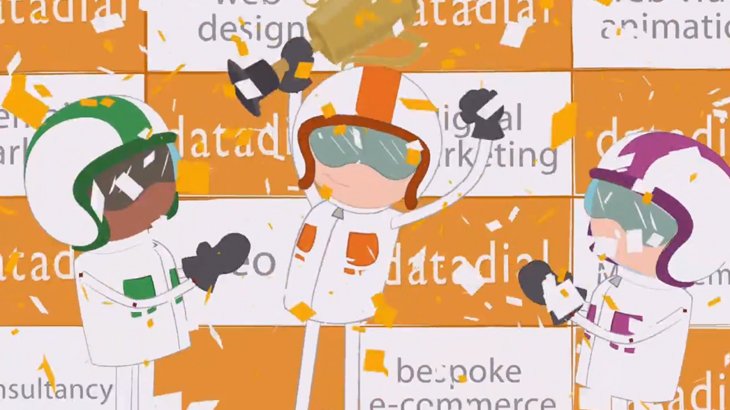 So when you're forming the storyline and script, be sure to keep referring back to your key corporate values.
That might include things like trust, corporate culture and ethics.
If you want to show a culture and value for fun, then animation provides great potential for humour.
You could trigger any intense emotion in an animated video, including shock, excitement and fear. All have their uses, depending on the brand, your audience, and your desired approach.
Of course the style you choose will have an impact on how your brand comes across, and what image it gains.
Highlight Assets
In addition to your values, your marketing message should put across other corporate assets that are important to let consumers know what you offer.
Animation can be a highly effective way of communicating these.
It can also be a great for showing your target audience your capacity to be innovative, creative and imaginative.
Make Tedious Things Entertaining
One distinctive benefit of animation is that it can make even the most boring or complex product or service more interesting or fun.
This is particularly useful if you're marketing something that is intangible such as a virtual service.
Your service can often be better understood with an animated explainer video than through text, as even just one image can say a thousand words.
You can explain what you offer, and combined with the values you have put across this can result in a positive brand image.
Curiosity, Suspense and Cliffhangers
The gap between what the hero of your animation wants and where he/she is now is important to keeping your viewers engaged.
The viewer should be able to resonate with the hero and be able to relate to the challenges he/she faces.
The viewer will be inspired to continue watching the video in order to find out what happens next.
Later, as the hero gets closer to his/her goal, the viewer will follow, expecting to see their accomplishment. But unexpected cliffhangers can be introduced to increase suspense.
Creating a story that is captivating will encourage viewers to remember your brand. They may also associate positive feelings experienced with the brand.
Harmonise Your Marketing and Use Social Networks
Transmedia storytelling can spread your message across platforms
Synchronising your message consistently, including the use of social networks, can define your brand.
Using an array of social platforms is also an efficient way to get your animated video viewed and shared by lots of potential customers.
A successful video that gains a lot of shares and likes can make your animation highly popular, which can boost incidence of brand recall.
An animated brand mascot can become synonymous with a brand to the degree that marketing channels extend beyond expectations. Kellogg's Tony the Tiger is a great example.
Your brand's image is hugely important to driving conversions, attracting customers and increasing market share, so try presenting it innovatively with animation.
Contact us to discuss how we can create an animation to help boost your brand image.
What brands do you think have communicated their brands most effectively with animation? Please leave your comments below.
The post has been written by Marianna Keen.
Related Posts