How Animated Video Can Improve Productivity for Your Business
Improving operations in any part of your business can be a challenge; but have you thought of using animated video?
Animation can serve as an effective and efficient tool to train, guide and remind employees of key elements in the work environment. This can improve awareness while reducing mistakes, so that productivity can be improved.
Whether you are seeking to improve operations in an office environment or in a factory, the crucial factors to achieve more efficiency from employees remain the same – changing their behaviour through information and motivation.
The Spread of Animation
Animated video can present topics to employees in an innovative and engaging way.
The animation techniques available are continually evolving, and following technological advancements, making a simple yet effective animation need not be expensive.
Animation is being used by businesses in every sector to communicate with personnel on matters from health and safety training to monthly news reports.
Animation Presents Memorable Information
A good quality animated video immediately stimulates the viewers' senses.
Inspired images, attractive music, a pleasant voiceover and a captivating concept are just some of the things that appeal to the audience.
All these elements of an animation can make the learning experience for an employee more enjoyable, gratifying and thus effective.
When a learning experience is pleasant and innovative, this can improve retention of information.
A concept that really resonates with the audience, and characters they can relate to, can improve levels of engagement and retention of information.
Efficient and Quick Communication
People have different preferences for learning and ways to process information, and due to its multi-sensory quality, animated video can appeal to these different types.
Animation also has the power to present a lot of complex information in a short timeframe.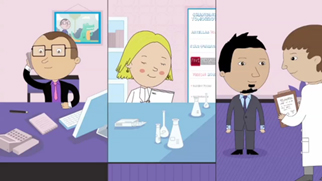 This means that training and informing staff can be done truly efficiently.
Infographics, split frames, simple 2D graphics, 3D motion graphics and whiteboard video are just some of the techniques that can be used to make a clear, short explainer video.
A short video is far more likely to keep viewers engaged throughout. Animation is also likely to be far more appealing than a text document or a live action video. A live action video demonstrating best practice in a factory can be very tedious, for example.
Insights into the use of animation to increase learning potential have also developed. This indepth knowledge is used by professional animation studios such as Spiel.
Motivate with Animation
Since a high quality animated video is engaging and memorable, this can improve motivation on various levels.
Staff morale can be boosted via the pleasant and often fun experience, which in itself can improve their general motivation in the job, and thus increase productivity.
The workplace atmosphere can even be improved as a result of this increased contentment. A really fantastic, funny or intriguing animated video can even get staff talking about it for days afterwards. This not only improves sharing of information, but boosts general levels of communication.
As a result of an impactful and memorable delivery and circulation of information, staff will likely be motivated to act on the new guidance and knowledge they have gained.
Animated video is a great way to not only instruct, but also to explain to staff why things should be done a certain way. Achieving this – and the recognition and respect that comes with it – can make a huge difference to motivation levels, and therefore to the level of acknowledgement of a training video and to resulting productivity.
Adapt When Necessary
One of the great advantages of animated video is that if your business changes, tweaks can be made to the video for little cost.
A company that is dynamic and going through regular change can benefit from using animated video due to this flexibility to make small adaptations when needed.
Extensive Use and Widespread Results
An animated video can be used to reach almost any objective.
You may wish to present a refresher course of best practice in a factory to reduce wastage and increase productivity, or you may need an innovative medium for communicating corporate policy guidelines. In either case, making staff feel valued will help, as will entertaining them.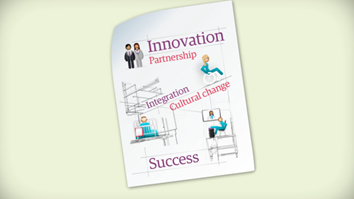 Of course, other areas of corporate culture, structure, strategy, management and leadership styles should harmonise with. This is something to consider prior to conceptualising your video, throughout the process, and even after utilising the video.
With the right mix of information, innovative expression and recognition of employees, an animated video can help any business move closer to its productivity goals.
Corporate values, styles and strategy will of course shape your animated video, but your successful video may also influence positive changes in your business over time.
Be open to the benefits an animated video can bring to your company and productivity won't be the only area in which improvements are achieved.
If you have experienced unexpected benefits from an animated video, we would love to hear about it. We look forward to your comments in the box below.
If you would like to discuss a specific message you wish to share with personnel, get in touch with us at 0208 891 2077 or spielcreative.com.
We can help you conceptualise a high impact, tailored animation that bring results at once and into the future.
We wish you all the best!
This post has been written by Marianna Keen.
Related Posts