How B2B Businesses Can Market Their Offering with Animation
A quality animation might be just the thing your B2B business needs to put your key message across in the best and most engaging way.
More and more businesses are becoming aware of the benefits that animation can generate, including:
Enhancing brand image;
Raising brand awareness
Promoting your offering;
Entertaining and informing simultaneously;
Communicating a key message clearly;
Encouraging brand retention and recall; and
Increase conversions and profits.
There are a variety of ways in which animated video can be used to communicate a strong B2B message and lead to subsequent benefits.
Here at Spiel, we have often been asked how to achieve the best results, so in this blog we will provide our top tips for success.
Explain Clearly
Animation is one of the most entertaining, engaging and clear ways of putting across any message, including complex ones.
Something complicated or tedious, in particular, can be made far more inspiring via a stimulating animated video, using attractive graphics and perhaps integrating a story that viewers can resonate with.
The video we produced for the Intranet Benchmarking Forum (IBF) explains the steps involved in their benchmarking procedure and what users can expect, with imaginative and fun graphics drawing viewers in.
Concepts within the video help to raise engagement levels, such as the imaginative depiction of a firewall using an animated image of a brick wall. This adds drama to an otherwise tedious topic.
Appeal Emotionally
Animated videos can not only be visually appealing, but many often also include an emotional appeal to help to captivate and retain the audience, and encourage brand recall.
The story or concept you choose might be funny, adventurous, or profound and mysterious. The emotions generated can significantly improve attention levels.
We made an animated video for Datadial which uses drama, likening web design to race car development. This is far more exciting and likely to intrigue viewers.
Anticipation and excitement help to keep viewers engaged so that they continue to learn more about the business offering.
The approach you choose will depend on the message you are putting across, brand values, the type of product or service you provide and the characteristics of your target audience.
Relate to Your Audience
Including animated characters in your video that your target audience can relate to can help to keep them involved.
In our IBF video, the main character designed based on a typical target customer. Viewers interested in improving their intranet and driving productivity, innovation and engagement will be engaged because they too want to solve similar problems to those that this character faces.
Knowing what inspires your target customer, what characteristics they have, their demographics, among other factors, can help you to create a video that really appeals specifically to them.
Positively Convey Your Company
Of course you will want to tell viewers all the benefits your company provides, but you should also consider how exactly you do this.
An effective way of doing so is by expressing your business as a character in a story, perhaps as a sage.
In the video we made for IBF, we conveyed the business as a confident female character who has all the answers.
Use Images and Movement Effectively
There are many aspects of an animated video that make it valuable in sharing a message, including the script, audio, voiceover and visuals. Applying images and their movement effectively involves a great deal of thought.
These visuals should not only appeal directly to the viewer, but they also need to fit well with the brand and flow with the video's message.
If applied well, images can help to explain something far more quickly and clearly than text or simple narration.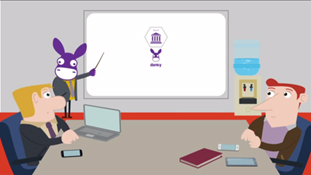 In fact, some videos do not even include a voiceover at all, but explain solely with graphics and animated images. Inspiring music is often present in the background to make the experience a positive and engaging one.
Often, explaining things simply can be the best way, so don't overdo it with your animations. There's often a fine line between intriguing your viewer and overwhelming them.
Bring Virtual Phenomena to Life
Companies in the virtual services market can find it particularly difficult to stand out and differentiate themselves from competitors.
Many such businesses have come to us in search of an innovative way of promoting themselves.
One of the most valuable advantages we can offer to these companies is the imaginative aspect of animation.
Virtual topics can often be tedious to explain and difficult to understand, but animation can change all this. It can give intangible concepts a visual identity.
By animating each part of a process, an explanation can be made both clearer and more entertaining.
Of course a firewall doesn't look like a fortress, but applying this creativity to a video, as we did for IBF, can help to inform viewers and keep them engaged.
Remember, with animation, the only barrier is the extent of your imagination.
What do you think makes an animated B2B video really stand out? We'd love for you to let us know in the comments section below.
If you would like to use animated video to give your marketing campaign a burst of life, give our animation studio a call on 0208 891 2077.
This post has been written by Marianna Keen.
Related Posts