Improve Brand Loyalty with Animation
Much perspiration, many tears, and hours of table thumping are the occasional painful prerequisites involved in the development of a brand and corporate identity.
You've designed and selected the colour of your logo and letterhead, you know what kind of language and tone of voice will permeate your internal and external communications, and your product is market-leading. So how best to reinforce all that hard work, attract and keep customers?
The use of animation is increasingly recognised as one of the best ways to engender, encourage and entrench brand loyalty.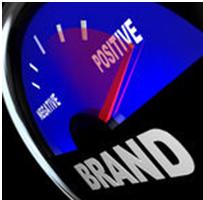 Animated Logos
Brand loyalty can be achieved through design, promotion, consistency, engagement, humour and creativity.
Animated logos, for example, have multiple uses from being the introductory visual on your website, be permanently embedded as part of your email signature, illustrate a complex concept in a simple format and become a timeless addition to your company advertising profile.
Animation can help revitalise your business branding. A once mundane, well-established but frankly boring logo can be transformed into something visually acrobatic that smacks of energy, synchronicity and confidence.
Logos are part of your identity, your personality, your heritage and your corporate legacy.
Evocative examples of animated logos from broadcasting archives includes the gigantic foot that crushes the 'Monty Python's Flying Circus' title in the groundbreaking comedy series of the 1970's and more recently the 'Lost' logo of the cult TV program.
These logos have been instilled into our stream of consciousness and become synonymous with great brands and fabulous entertainment.
A company logo is capable of so much as it revolves, evolves, metamorphoses, tells a story and guides the viewer along a commercial path and ultimately generates more sales leads.
The U.K.'s biggest online estate agent Housenetwork.co.uk's web video starts with its animated logo of four houses in a striking bold palate. It's the first thing the viewer sees, and the short logo-introduced sequence guides the viewer in – a subliminal and at the same time overt gateway to a well-produced video.
The Power of Pantones
Melissa Stanger's article "How Brands Use The Psychology Of Color To Manipulate" on businessinsider.com reminds us how consumers identify a product or company with colour. The passion and excitement of the red in the Virgin brand, the use of the optimistic and happy yellow in the McDonald's sign which is also one of the most easily illuminated colours by your car headlights when you are on a hungry road trip.
Similarly Housenetwork.co.uk's animated web video instills brand loyalty in terms of consistency because it uses their corporate pantones and reinforces the company palate of pink, orange, green and blue.
Product Promotion
So let's look more closely at brand loyalty and how animation can assist in its evolution. There's the brand name and company logo that can be made dynamic by animation; there's design which includes corporate colour palates, and another key factor is the promotion of a service or product.
If the message you'd like to get across to your audience isn't the simplest or most exciting of messages, by using an animated video you can get your story across efficiently in an engaging format.
There are many forms of animation including whiteboard animation – the hand drawn style that is captivating clients, making the casual web browser smile and energizing internal corporate communications.
Whiteboard animation is increasingly used as a global marketing tool. It is often sent to clients and employees embedded within emails or is a must-see feature of a corporate website.
Search engines like content. They love video; they adore animation and will reward your site for all of its varied and quality content by sending internet traffic or viewers to your site. Hopefully, these visitors will stay on your site, watch the video, explore beyond your home page and convert into customers or followers who will advocate your brand and inspire brand loyalty.
And then there's the question of your competitors. It's all about staying one step ahead and with the introduction of quirky marketing and advertising tools such as animation your message has the potential to go viral which results in greater social proof and a greater advantage over your industry adversaries.
The post has been written by Warren.
Related Posts