How to Generate Leads with Infographics
Infographics are popular as a way to make complex concepts and boring information more engaging with visual appeal. These grab attention and get shared frequently across social media.
As a result, infographics can get you more online traffic. If you take a focused approach that provides something valuable and opens a conversion path, you could even generate more leads.
So how can you achieve this?
Decide on a Value or Offer to Present with Your Infographic
Pinpoint the best ways you are getting leads today and consider building on this. Perhaps you are giving away free samples, or perhaps presenting valuable information in free ebooks. Well these are offers you can draw awareness of with creative infographics.
Think about the key elements that make you offer so appealing and use this in your infographics. It can be useful to write down the top ten interesting ideas you come up with. This can then be converted into an inspiring list of trivia or valuable statistics.
When presented in a short, snappy and visually attractive way, these pieces of useful information suddenly get noticed more. Viewers process this valuable data and this can convert into sales.
So How Do You Create Your Infographic?
To make your infographic attractive and engaging, you should not include too much information. This can become overwhelming, and can also take away from the visual appeal.
As a guide, ten pieces of information is about right to present enough information to inspire your audience.
Sometimes, though, even a couple pieces of useful or humorous information can be enough.
These will be presented in brief, illustrated with creative and eye-catching designs. These images can be emotion-rendering or thought-provoking, giving them even more appeal and power. The fantastic thing about illustrations is that they can say so much more than the words on the page.
Arrows, boxes and other bold images can also be helpful. They can help to guide viewers around your infographic. This can ensure it quickly and efficiently conveys the desired message.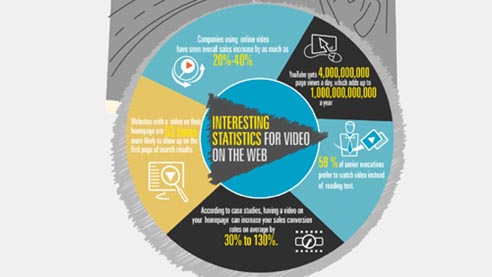 In total, your infographic provides a short and powerful burst of valuable information. Viewers have used up very little of their valuable time, so those who are interested to learn more will be intrigued to take the next step in the conversion path.
Show Off Your Infographic in a Video or Blog Post
Once you have created your appealing infographic, you need to get it seen and shared.
Hosting it on your website is a great start, and one of the best ways of doing this is a blog. In that way, you can provide additional detail to those visitors who require it, all on the same page. You don't need to write much in the blog post though. Just briefly summarise the information provided and perhaps expand on it slightly. The infographic can be your still image that draws people into the blog post.
Another possibility is to feature your infographic in a short web video. Consider that if you integrated your infographic into a minute-long animated marketing video, this would correspond to 1.8 million words, according to Dr. James McQuivey of Forrester Research.
This video for Situ includes a variety of simple infographics throughout, to help to explain the marketed calorie control concept. This is a great idea if you feel that one page of infographics is not enough.
Remember to give your infographic an enticing and keyword-rich title. Your blog post and/or video should also have an appealing and relevant title to draw potential customers in. Focusing on titles and keywords, as well as key phrases within your blog post, will ensure your valuable infographic gets ranked highly in search engines. This will also attract your target audience in social media and inspire sharing.
Present Your Call-to-Action
Your infographic should include a call-to-action that leads visitors to your offer.
You can set up a landing page that specifically deals with this offer and is designed to lead visitors down your sales funnel. Perhaps encourage them to fill out a form with their information, in exchange for your offer.
Just provide a hyperlink to this page in your infographic and conversions should soon be made.
Each completed form is a new lead generated!
Presenting your infographic in a blog post or video provides an additional opportunity to specifically lead your visitor to your offer. A call-to-action at the end of a video can be presented with audio instead of just visuals.
Make it Simple to Share Your Infographic in Social Media
Many blogging platforms will include social sharing buttons so that visitors can easily click on these in any of your blog posts.
Once you've got your appealing tool that is easy to share, you will soon see the leads start pouring in.
What makes an infographic sharable for you? Information you can't find elsewhere? Funny images? Let us know in the comments section below.
If you would like help in creating an engaging and targeted animated infographic, get in touch with our team. Our team of designers and web marketing experts would be happy to discuss your objectives in detail so that you can achieve optimum results. Call us on 0208 891 2077 today.
This post is by Maite.
Related Posts