How to Keep Your Video Viewers Engaged Until the Call-to-Action?
The key to a successful marketing video is for it to be well-tailored to its objective and audience; but how do you ensure viewers stay until they reach the call-to-action?
Having already drawn visitors in and hooked them with your introduction to your video, this post will look at methods and tricks for retaining them to the end.
Marketers should communicate with the production team to ensure that a marketing video reaches its full potential.
The full value of your promotional video can only be achieved if viewers reach the call-to-action, and here are our top tips for realising this:
Tip 1. Include Suspense
It's all very well enticing viewers in with inspiring graphics and a dramatic or emotionally appealing storyline; but now you need to keep them engaged.
You may already have introduced the viewer to a hero in your story with whom they can resonate. Now, to keep them interested, build anticipation.
The viewer, who has a similar problem to the hero of the story, will be curious to find out the potential answer.
If there is no hero in your video, then you can build this suspense with mystery in your story. If your video is an abstract animation, a sequence of innovative scenes can build anticipation to see what happens next.
The key is to sustain this curiosity throughout the video.
Tip 2. Integrate Cliffhangers
A cliffhanger could be integrated into the story, with the conclusion provided at the end of the video, just before the call-to-action.
If you're producing a series of videos, it can be effective to place a cliffhanger at the end of the first video, so that viewers are drawn to watch the next.
Cliffhangers can make an advert memorable, leading to increased brand recall.
Tip3. Boost Consumer Confidence
In order to continue watching your video, consumers need to feel confident in both your brand and what you are offering.
52% of consumers in Internet Retailer's 2012 survey said that watching online product videos made them more confident in their online purchasing decision.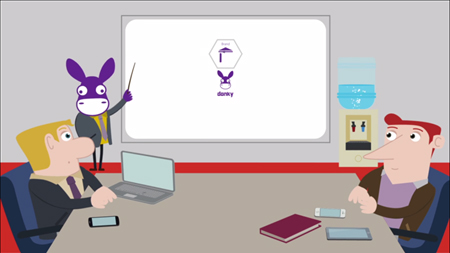 But achieving confidence is no easy task.
A first step is to ensure the video provides all necessary information to explain the offer, while also communicating your brand's values.
A friendly or authoritative voiceover can help to add creditability to your video, while storylines that viewers can relate to can increase affection for the brand.
Tip 4. Consider The Characteristics Of Your Target Market
When considering your storyline and elements for enhancing confidence and appeal, you need to consider the characteristics of your typical customer.
In order to engage potential customers throughout your promotional video, you should know your target market well and know what interests and inspires them.
Although all consumers are different, knowing the typical traits of your target customer can help you to reach them.
Information about their personality, habits, demographics and culture are just some factors that could affect the style and content of your explainer video.
Tip 5. Appeal To Viewers' Emotions
An emotional appeal is useful not just for captivating your audience at the start, but also keeping them engaged throughout your marketing video.
If you think of the videos that go viral, you'll notice that they tend to have a strong emotional appeal.
You don't need to stick to the same emotion throughout the video. You can switch from one to another, perhaps going through a rollercoaster of emotions.
A funny, dramatic introduction could lead viewers into an exciting action scene, then into a sad moment, before returning to an uplifting scene at the end.
Keep your target market and product in mind when deciding on the most appropriate emotions to generate, and the most effective way of achieving this.
Humour is popular, but different people have a diverse sense of what is funny. This is the same when triggering other emotions too.
Consider the technique and style of your video and how this emotion will be generated. Animation is a flexible and valuable medium for triggering any emotion.
Tip 6. Use Innovative Techniques
It's not just the storyline that will impact on your content.
The medium you select for your video will play a part, as will the style you choose.
One of the first decisions to make will be between live action, animation or a mixture of the two.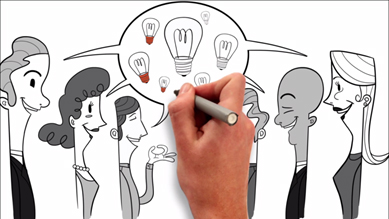 All of these can keep viewers engaged, but the choice might depend on your choice of style and objective.
Even on choosing animation, there are several different methods to choose from, each with different strengths.
Whiteboard video is great for explaining intangible services, while 3D motion graphics animation is great for drawing viewers into a dramatic adventure story.
Diverse techniques can be used throughout a video to give an innovative touch and add appeal.
Tip 7. Make Your Call-To-Action Short Yet Stimulating
Once your storyline has reached its end, get to the point of your video and make it quick.
You don't want to lose the attention of your viewers at such a crucial stage.
A call-to-action can be made more engaging if it is integrated into a story; for example, if an engaging character speaks to the viewer, providing a useful piece of information.
Get to the core of the video's purpose, and stick to one call-to-action.
Remember that depending on what you want the viewer to do next, they can often learn more at the next conversion stage, allowing you to instigate another action.
Retaining your viewers to the end of your video denotes success in itself. Even if they do not follow your call-to-action immediately, they may return in the future if your video was effective and memorable.
By following our top tips throughout the production process, marketers and producers can provide a video that is truly attractive to the target audience, increasing the chances of a conversion
If you would like a high impact explainer video created for your business or have any questions, then feel free to contact us on 0208 891 2077.
This post has been written by Maite.
Related Posts