How to Measure Users Engagement Levels
There are two broad steps when it comes to video marketing. The first is to create a video and the second is to monitor audience engagement with the video.
Online video marketing is proving to be an effective generator of ROI for businesses of all sizes.
Take a look at the statistics below which highlight just how important video has become online:-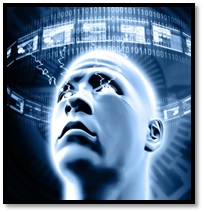 According to Diode Digital, over 90 per cent of internet traffic comes from video and video constitutes 50 per cent of mobile network wireless traffic – that is estimated to go up to 66 per cent by 2017.
YouTube now comprises of 28 per cent of a typical Google search and over 1 billion unique users visit YouTube each month.
The age demographics for YouTube viewers is not restricted to youngsters…the average age range is found to be from 18 years to 54 years.
Video promotion is 6 times more effective than promoting via print and direct mail, according to Social Strategi.
Finally, get this: 60 per cent of visitors watch the video before reading text on the same web page, according to GreenHouse Agency.

 
There are several other studies which report statistic after statistic affirming that video marketing is beneficial for boosting traffic to your website, brand awareness, audience engagement and conversion rates.
So, the question that now arises is how are these figures attained? Or more importantly, how would you to gain the analytical data from which marketing insights can then be derived to guide your business appropriately?
According to a study by O'Brien and Toms (2008), user engagement comprises of "the depth of participation the user is available to achieve with respect to each experiential attribute."
The authors define "experiential attributes" to be factors like "the aesthetic appeal, novelty and usability of the system, the ability of the user to attend to and become involved in the experience."
In other words, the more positively involved users become with your video and the more captivated they are with the technology, the more engaged they are.
The emotional, cognitive (thought processes) and behavioural (responsive) states of the users are taken into account when measuring user engagement.
While quantifiable data – such as viewer counts, bounce rates, website visitors, etc – do matter of course, measuring user engagement with your video is more qualitative (i.e. gauging how involved users are with your video) than you think.
Self-Reported, Cognitive and Interaction Measurements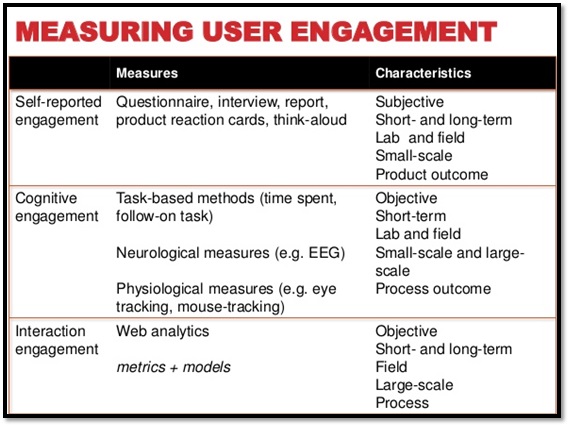 As you can see from the chart above, user engagement can be classified into three broad types.
Self-Reported Engagement: Using questionnaires, forms, interviews, product reaction cards, etc. to gauge how involved users were with your video and what their experience of it was like.
Cognitive Engagement: This is tracking the thought patterns and processes of users while they are watching your video online. Factors like eye-movement, mouse-tracking, time spent watching the video fall into this classification. Academics studying user engagement go as far as conducting EEGs that monitor the brain using electrical impulses when users are watching video; however marketers need not go that far!
Interaction Engagement: This is when we use tracking tools that generate numerical data from which we then glean insights into the ways users are engaging with the video.
Here is a breakdown of effective quantitative and qualitative measuring tools and methods that can give you comprehensive insights on users engaging with your video:-
Tracking Tools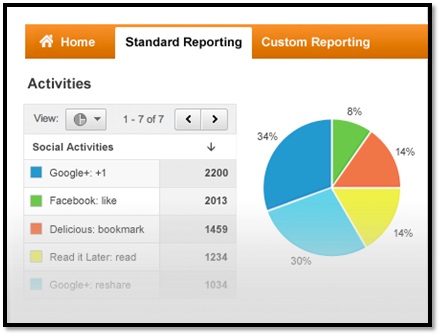 There are many tools out there which help track user engagement in numerical terms. The more common examples of such tools would be Google Analytics, comScore, Gigatrak, OptiTrack, etc.
Even social media platforms, such as Facebook and YouTube offer in-depth statistical analysis of where your traffic is coming from and what particular posts and videos are they engaging with.
All of these tools provide you with pie charts, heat maps, bar charts and line graphs that give you a mathematical analysis of users engaging with your video.
Forrester's Four 'I's
In 2008, global research and advisory firm, Forrester put together a model, by the name of Four 'I's that helps businesses to evaluate user engagement from a qualitative standpoint.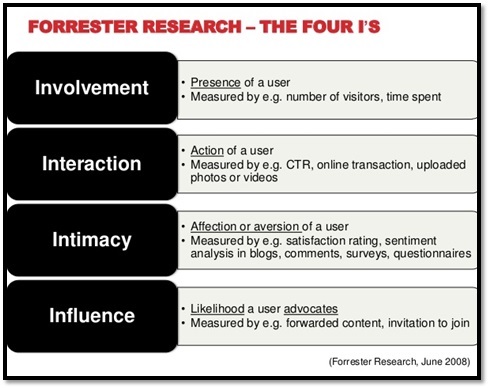 Marketers can gauge the Involvement of users by the number of visitors and how long they spend watching the video.
The Interaction of users can be measured by Click-Through Rates, online transactions, photos or posts uploaded as a consequence of viewing the video.
The Intimacy expressed by users can be gleaned from their reviews and ratings, their comments and analysis in blog posts, questionnaires and surveys.
Lastly, the Influence users reflect by sharing the video or showing their interest or aversion on social media (via Facebook 'Likes' or Retweets/Favorites on Twitter, +1s on Google Plus, etc.) can also be insightful.
Forms
Forms are a traditional way of gleaning customer feedback and their online counterpart can work just as well, provided the forms are (i) easy to fill in, (ii) does not take up too much time to complete and (iii) have a positive outcome at the end (e.g. enter into a lucky draw to win a prize, a complimentary discount offer, etc.)
The more creatively-presented and suitably-worded the forms are, the more fun they can be to fill in. So, spending time on designing the look of a form and framing the questions with the tone and language that suits the audience can be important.
Hiring a digital marketing agency specialising in analytics can help you track exactly which text boxes have been clicked, which have been filled in and interpret what the qualitative data indicates.
Forms are a good example of measuring self-reported engagement.
As you can now imagine, measuring users engaging with your video is not an easy task, but with the sheer variety of measuring tools and models out there, you can pick and choose to suit your requirements.
At our Animation Company we specialise in producing high impact explainer videos for businesses of all sizes. Contact our team if you would like to know more about creating animated videos for your business that will help raise awareness of your brand and service offerings.
This post is by Warren Green.
Related Posts