How to Share Your Message Quickly with Animated Visuals
Visual stimulation is more important than ever when it comes to making your offering stand out.
Confronted with a vibrant marketing environment, businesses have little time to make magic happen and engage their audience.
Visuals not only grab viewers' attention but they also aid dramatically in explaining a concept clearly while the audience's attention is in your hands.
What with marketing overwhelming us from all directions, we have become far more selective with what we engage in. Web users' attention spans are also far shorter than they were.
In fact, the average attention span in 2013 was just eight seconds, according to the National Center for Biotechnology Information (NCBI) in the U.S. So you need to woo your audience quickly. If you do, then findings suggest you can retain an audience for far longer. The NCBI found that the average length watched of a single internet video was 2.7 minutes. This is plenty of time to convey a key message with animation.
90% of information transmitted to the brain is visual, and visuals are processed 60,000 times faster in the brain than text, according to 3M Corporation and Zabisco. The popularity of animated video on the web suggests this is the means of communication of the future.
So what is so amazing about animated visuals? Let's take a look.
Creativity that Draws Viewers In
So, you have a fantastic product to promote or an important message to share? No doubt you've already experienced that getting your voice heard is possibly the toughest part. Well, this is where innovation comes in handy.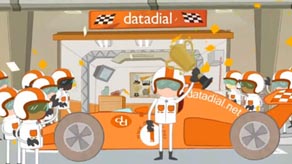 The great thing about animated images is that they are made up from our imaginations. They can be based on reality, or they could be completely new. Whatever your marketing needs, it is the uniqueness and creativity of these images that will play a huge part in getting your video noticed. The most appealing images from your video should be presented as your video still-shot.
Unique Qualities for Explaining
In fact, for some companies, it is the ability of animation to present something that doesn't yet exist that is most attractive.
Architects, product designers and landscape gardeners are just a few professionals that make use of animated video. Even huge buildings can be scaled down, simplified, shown in 3D, and the viewer can be guided around as if they were in a real, existing place.
Chosen aspects of any product, room or space can be simplified to make explanation clearer. Just think of those animated safety videos you watch each time you take a flight.
These qualities of animated video allow you present your message in a way that would be unachievable with text of real-life video.
Be Dynamic with Time and Space.
Not only does animation allow you to clearly present a product of any size, but it also enables you to express changes in time and place.
If your service operates over great distances, this can be useful for explaining things. Whether your company carries out deliveries or provides cloud storage that can be accessed from anywhere in the world, you can present this creatively with animation.
For example, a motion graphics globe can be zoomed in on, focusing on a specific country, then a particular animated character sitting with their laptop on the beach, accessing information in their cloud storage.
Time can also be played with. The same video could show the animated character arrive back from their holidays and go through all the photos they have stored in the cloud.
Other businesses may use animation to show how a situation changes over time. This can help to show the use of a product, or even to educate viewers about global issues and current affairs. Many charitable organisations are using animation to present sensitive topics in an engaging way.
Jazz Up Tedious Information
Animated explainer videos can help to explain complex things clearly whilst spicing them up at the same time with attractive images. This ensures your key viewers are engaged and stay watching.
Only by watching your video to the end will potential customers learn about your offering and reach your call-to-action.
Insurance companies, banks and technology providers are using animated marketing videos to explain their offering in a more appealing way.
Your customised video could present a story and visuals that your target audience can really relate to. If you generate emotion with this concept, your video will be engaging and memorable.
Show Relationships Quickly
Animation allows for many forms of information to be present on just one screen. In just a few seconds, a whiteboard style hand can draw out the process by which a product can be used to benefit not just the user, but also employees.
Look at the efficient way this video for Tollring clearly expresses many pieces of information at once, explaining relationships and advantages with images.
Show Originality
Whatever your animated video is for, it can promote your business in a creative and unique way.
Your original animated images will be known synonymously with your brand.
If you want to share your message efficiently with animated visuals, give our team a call on 0208 891 2077. Your video can boost brand image and conversions in a way that exceeds your expectations.
If you have used animated video successfully in the past, let us know which types of visuals you found to be most effective. Provide your thoughts in the comments section below.
Maite has written the above post.
Related Posts