How to Strongly Exhibit Your Product or Service with Animated Video?
A quality animation is not only attractive to web visitors, but it can be a highly effective means for presenting your offering.
Communicating via animation can be far more appealing and simple than a block of text, whatever industry you're in.
You can achieve a strong and creative message to help you reach your business goals in a number of ways.
Simplify Complex Ideas
Animation is great for explaining complicated concepts.
Take a look at this animated video we made for the Intranet Benchmarking Forum (IBF).
It takes the viewer gradually through the different steps of their benchmarking process and tells them what users of the forum can expect.
The simple yet imaginative graphics draw the viewer in and make the experience enjoyable and far less intimidating – You might even forget that you're learning.
Creating animated characters that your target audience can relate to is also key to intriguing viewers.
The main character in this video represents the target customer who is seeking to improve his company's intranet, and to increase productivity, innovation and engagement levels. It's a character that viewers can relate to in their search for the same information.
The video not only explains that IBF is able to answer this character's questions, but it shows exactly how this can be done.
With the system animated, it is easy to highlight how it can be used and how it interacts with the user.
It seems much simpler like this than in a page of text doesn't it?!
Elements that would take forever to explain in text are suddenly shown in seconds, in a fun story.
Seeing the service expressed with animation appeals to a much wider audience than does text too.
After watching this animated character use the service to benefit his intranet, the viewer can picture ways he can do the same in his business.
Present The Intangible And Virtual
Describing something intangible can be overwhelming.
Virtual services, for example, can be highly intimidating to first-time users.
Bringing them to life with animation can help people to get their heads around what would be far more tedious in text.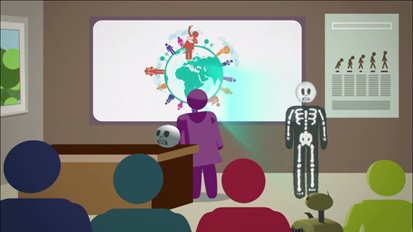 Let's look at explaining a firewall, as in the IBF video – Hmm, well that could become dull and long-winded.
But in the IBF animated video, it's made actually quite fun and simple.
We see a brick wall being built up, which stops the character from getting into an intranet. This is engaging and leads on to the next part of the story.
Now we all know a firewall doesn't look like a fortress (well most of us do anyway). In fact, you can't see or touch it at all. But a little bit of artistic licence sure can make the story more interesting.
The freedom to use your imagination in animation provides scope to explain in a fun and captivating way, so make the most of it.
Explain Relationships
The featured video for IBF shows how animation can be used to explain a connection between things that is complex, or is not immediately clear.
It brings benchmarking, data analysis, and networking with experts all together in one screen, linking them to the tool offered.
Putting all this information in one place helps the viewer to see the full potential that the service could provide.
This clear way of explaining relationships is not easily achievable in live video.
Show Off Your Assets And Values With Animation
With so much marketing material out there, competing for attention, animation can really help you stand out from the noise.
Your animation should harmonise with your business values and strategy, showing not only what your product offers, but also what your brand stands for.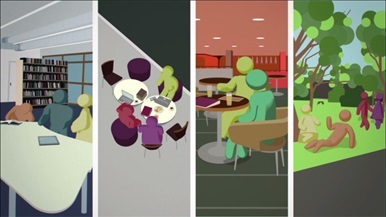 You can communicate anything via animation, from a fun and humorous culture to a transparent and trustworthy attitude.
For a design or innovation focused organisation, animation can also be a unique way of demonstrating your creative assets.
If your company is all about modernisation and freshness, it makes sense to use this same approach when producing your marketing material.
This is your chance to show potential consumers how you differ from competitors. Animation offers a range of ways to do this.
If Only You Could Taste Animation
There is so much you can achieve and explain in animation through a combination of images and sound.
Inspiring designs can be fused with mesmerising music, or simple graphics can be accompanied with an enthusiastic voiceover.
An effective combination can help to make an animated video even more engaging.
If we could just take smell-o-vision to a higher level, animation could offer a mindblowing party for our senses.
But alas technology has a little way to go before we can smell what's on our computer screen, or live the Willy Wonka dream and grab a chocolate bar from the screen.
There are many appealing aspects to animation, however, including sound effects and methods of animation that are continually evolving.
The variety of options available and the advancements taking place offer many ways to achieve your desired result.
Make Boring Concepts Interesting
There are many products that can be plain dull to explain.
This is of course the best time to bring in a bit of pizzazz.
The visual and audio elements of an animation immediately appeal to a viewer's senses.
Bright colours, crazy music and dancing penguins are among things that can make a viewer smile and think, "Hmm, what on earth is this about? I'd better keep watching."
Humour, innovation and weird expressions are great ways to add to a video's appeal.
When a video is light-hearted, simple and fun, it often has more power to lure viewers in too.
By entertaining your audience as they learn about your product or service, you will give them a positive experience, and one that may well stick in your minds.
Get in touch with us on 020 8891 2077 to discuss how you can use an explainer animation to showcase your product or service in an innovative and engaging way.
Related Posts