Home
»
Video Talk
» Most Important Success Metrics for Your Online Videos
Most Important Success Metrics for Your Online Videos
October 5, 2015

Posted by Marianna

under

Video Talk
Consumers are watching more digital video than ever, and the rise of mobile video and web-based TV have provided even more useful platforms as well as metrics for measuring the success of your video.
Nielsen reports that the amount of time American adults spent viewing digital videos doubled from 2012 to 2014, while Cisco Systems estimates that by 2018 video will push 90 percent of all consumer traffic on the Internet.
Marketers are noticing the extensive value of web video too. In a 2015 survey from BrightRoll, 72 percent of advertising agencies questioned said that online video advertising is just as effective, if not more so, than TV advertising.
And there's no need for the video to go viral for it to make a huge impact either.
From its survey of 120 advertising agencies, BrightRoll found that client interest in video adverts has increased by 88.6 percent in the last three years, with their opinions differing on what the most important metrics for success are.
Twenty percent of respondents expressed that measuring completed views was the best way to analyse the success of a video campaign, while only four percent said sales impact was the best metric.
What is the most important success metric for your digital video campaign?
It seems that these results are largely based on the value of online video to target key consumers.
Fifty-six percent of the advertising agencies questioned said their clients see the targeting capabilities of digital videos as the most valuable element, far out-weighing those that put most value on other aspects such as reach at 20% and ad unit format at 7%.
Measuring a video's success at targeting the right viewers is complex, however, requiring not just a measure of reach but also more information about what a viewer experienced and what action they took as a result.
More in-depth video metrics are required, which are achieved via more personalised advertising formats. This is where it's worth thinking mobile.
When it comes to budget spending, 68 percent of the agencies surveyed said they expect the largest rise in digital media spending to be on mobile. Seventy nine percent of respondents said they will likely dedicate a large portion of their video advertising budget on tablets.
In which advertising category do you expect to see the highest increase in digital video spending?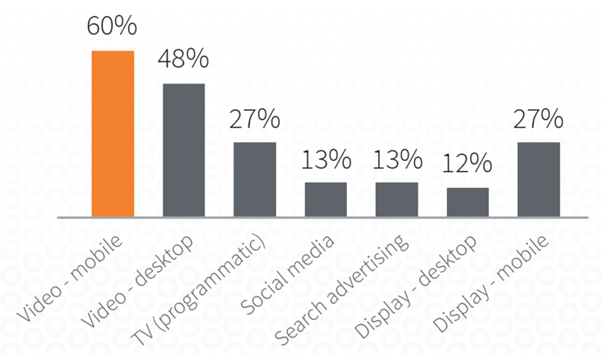 Responses from advertising agencies in the BrightRoll survey. Image courtesy of BrightRoll
Popularity of Online TV
The BrightRoll survey also found that the advertising agencies surveyed believe that online video is overtaking traditional television advertising.
The research shows that 41 percent of participants believe online video adverts are more effective than television adverts, while 31 percent said they think they are just as effective.
But now, web-based television services are taking television's adverts, which is presenting a whole new media environment to advertisers. And this type of video advertising is expected to reap rewards.
According to research from the Diffusion Group, U.S. advertising revenue generated by OTT television providers is expected to almost quadruple in the next five years. This will be largely due to industry-accepted measurement standards.
In the modern advertising era, with advanced digital video success metrics, it's another area in which spending is expected to surge.
Web-based television advertising revenues are expected to surpass those of radio and digital video, to reach $40 billion in the U.S by 2020, according to the Diffusion Group.
Forty percent of American households were subscribed to at least one streaming video-on-demand service as of the end of 2014, according to research from Nielsen. And the amount of television people watch using these services is increasing each year.
New Analysis Tools
Now, to help advertisers measure the success of their videos, there are new and innovative rating systems on their way that will enable advertisers and TV providers to find out the total audience and viewership of videos on these channels.
Adobe has teamed up with Nielsen and will soon provide digital content ratings that will bring about accurate census-based measurement of digital content.
Previously, TV providers and advertisers were unable to measure audiences and be sure of who was actually watching the adverts being shown, making it a difficult for advertisers to invest aggressively on internet television.
Now, even though advertisers are not delivering the video directly to consumers, they will be able to keep track of its performance.
Along with a growing consumer appetite for video content on these channels, this new tool will spur further growth in online video advertising.
One significant benefit to advertisers arises from the fact that online television services offer them the chance to target specific consumer segments with their adverts. As found by BrightRoll, targeting potential is the most valuable element of digital video advertising for many. Advertisers can even find out information about a viewer's location, browsing history, age, and other data.
According to TDG Research, in the next five years, the average amount of time allocated to advertising in a half-hour block for terrestrial television will decrease 38 percent, from eight minutes to around five minutes. Meanwhile, the average time given over to advertising on online television will rise 63 percent, from just over three minutes to around five minutes.
The future is bright for mobile video and web-based TV advertising, opening up new potential to target consumers with video content. What creative methods will you use to do this? Let us know in the comments section below.
To discuss producing your own well-targeted and engaging animated video for web-based TV, terrestrial TV, mobile or tablets, get in touch with our production team on 0208 891 2077.
This post is by Marianna.
Related Posts