Stop Motion and Motion Graphics
What do the films, Chicken Run (2000), Corpse Bride (2005) and Coraline (2009) have in common?
These have all been made using stop motion animation!
Here's another one…
What do the awesome channel idents for the BBC and SyFy have in common?
Well, these have been made with motion graphics!
Stop motion animation and motion graphics are not only styles of animation, but are also the forces behind some of the big names in animated entertainment.
The Main Difference
Avid readers of our blog would by now know that animation is all about giving the inanimate, i.e. objects that are still and stationary, the illusion of movement.
It is here, i.e. how the illusion of movement is given to the objects, where the difference between stop motion and motion graphics lie.
You see, a stop motion animation is when an object is placed in several positions and is photographed in each of the positions.
Next, these images are sequenced together in an editing suite, to make it seem that the object is moving.
However, with motion graphics, the graphic in question is made to move on the basis of the parameters set through a software programme, such as Adobe AfterEffects or Maya, by a motion graphics designer.
Other Differences
Aside from this difference, these two animation styles do have other minor differences which can easily go amiss, as they are less obvious to the naked eye.
Stop motion animations are used to make advertisements for products and services, or even to convey important messages to audiences.
While motion graphics are used to make idents for television channels, production houses in the entertainment industry, such as the ones you see before a movie starts or the ones which come on at the end of a television programme.
Further, while both styles of animation can be viewed through electronic media (e.g. computer, television, cinema screens), motion graphics can also be viewed manually through devices such as the stroboscope and zoetrope.
In case you were wondering, these two devices are for real and here are pictures of them as well as the fantastic effects these can create:-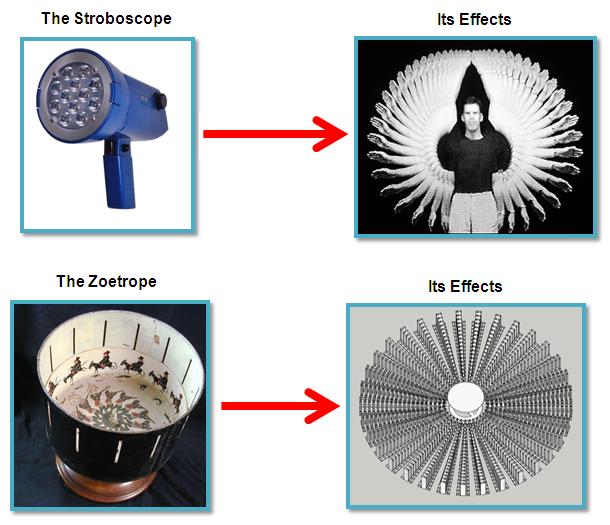 What both stop motion animation and motion graphics do have in common though is that they leave the audience so impressed that they would find it difficult to forget!
This post is by Warren Green.
Related Posts