Tips to Build Trust and Drive Conversions with a Great Story
A true story about how your business was established or an imaginative tale about how your product can be useful is a fantastic way to engage potential customers.
This can incorporate your company's core values, important information about your offer, as well as entertainment.
Here are some top tips to bear in mind and discuss with your chosen production studio when creating an animated marketing video.
Apply a Concept That Emphasises Values and Benefits
There are many things consumers look for when selecting a product or brand.
Assets, characteristics and important criteria should all be applied to your animated video to ensure all information that is required to make a conversion is provided.
Providing the information is not always enough, however. The way in which it is presented is important.
It should be supplied in a professional and trustworthy way. The voiceover, visuals and concept applied to an animated video all affect its appeal.
Providing this information in a clear, authoritative and consistent way can also establish a feeling of trust from consumers towards your product.
Relate to Your Audience
Another way to attract potential customers and engender trust is to appeal to their desires, needs and characteristics.
If the story in your animated video resonates with your target market, they are more likely to take notice and become engaged in your video.
Giving your story a hero can often help to prompt a positive response.
Think about your target audience, and what your typical customer is like. Get into their mind, their way of thinking, their habits, and even conjure up what he/she might look like. This is the hero for your animated marketing story.
Some marketers will make the brand the hero of their story, but this often does not answer the questions that your customers have.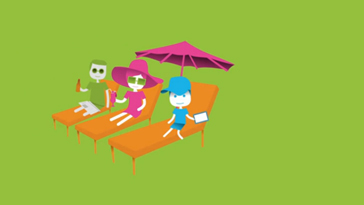 It can be more effective to tell stories about the problems your customers have faced or that they can imagine themselves in. They can then relate to the hero.
For example, if your prospects are concerned about the environment, tell a story about the green credentials of your product.
Be specific and give detail, as this will help to engender trust. Including infographics with well-respected data can also be helpful.
The aim is to apply important characteristics of your key market into your story. These could be beliefs, values, habits and personality traits.
These internal qualities might influence the type of animated character you choose for your marketing story, and whether your hero will be human, extra-terrestrial or an animal.
The more you know about your prospects, the better your story and your marketing will be.
Cast your Business as the Sage
With your customer taking the lead role in the story, you as the company or brand might take the role of the fountain of wisdom and helper.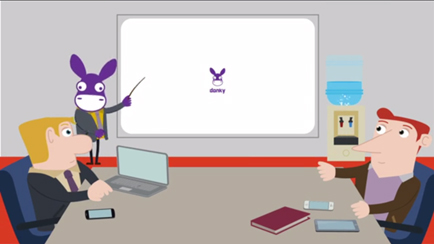 In an animated story this Sage may take on the form of a wizard or a good witch, but beware not to make them too mysterious or their advice too cryptic.
Provide the hero with important information that answers their questions, helps them overcome problems, and allows them to reach their goal.
Include Gaps and Cliffhangers
Engaging your target audience is one of the main challenges in creating an effective animated marketing story.
To do this, you must understand the importance of the disparity that exists between what your hero wants and where he/she is now.
As the hero of your animated video closes in on his/her goal, viewers will follow and expect to see their accomplishment. An unexpected cliffhanger can add to the story's lure and to the viewer's apprehension at finding the answer to a problem they might share.
The audience will be driven to continue watching in order to find out what happens next. They too have gaps in their lives and goals to reach, which they have invested a lot of energy in to. A story that recognises this, or can offer an answer, can engage them and have power.
The number of cliffhangers you include in the story will depend on the width of the gap between where the hero is and where he/she wants to be, how complex the problem is, and how long you wish the story to be.
Understand your prospect, their needs and wants, and illuminate the path towards their goal in your animated story, showing how your product or service can help to get them there.
By doing this and making wise character and scenario choices, you will be well on your way to a top-class animation.
What would be the ideal animated hero for your marketing video? Let us know your choice and why in the comments section below.
If you are considering having an animated marketing video made for your business and would like to consult a professional studio, don't hesitate to give us a call on 0208 891 2077.
We always look forward to discussing new and creative projects, and look forward to hearing from you.
This article is by Marianna Keen.
Related Posts