Home
»
Video Talk
» Top Metrics for Measuring the Success of Your Video
Top Metrics for Measuring the Success of Your Video
Approximately half of businesses currently use video in their marketing strategies, and by 2017, video will account for more than two thirds of all consumer internet traffic, according to Cisco. But if you're going to make such an investment, how can you measure the success of these videos?
Pros and Cons of View Count
Many marketers focus on view count to assess the success of a video. This provides some valuable guidance on the initial appeal of your video; however, if you look at what drives a video strategy, it is actually quite superficial. From this metric, you don't know who your audience is, and you're provided with no guarantee that these viewings are contributing to business and driving conversions. Perhaps the consumers watching your video don't fit your target customer profile, in which case many views are of little worth.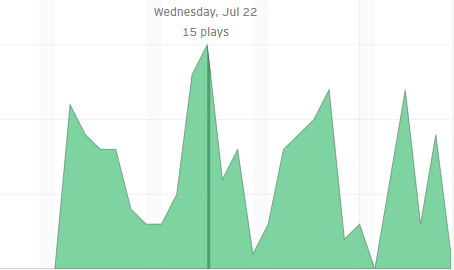 Even if the aim of your video is simply to promote your brand and provide exposure, there are more pertinent ways to measure returns on investment. Methods that provide some insight on whether your video is resonating are far more useful. If you know consumers have watched your video to the end then this shows that your video is appealing and of interest. On the other hand, if viewers click away in a few seconds, this may be an indicator you have chosen a dull theme or topic or you have put the video in the wrong place to attract relevant views. You may then choose a different concept for your next video, and perhaps opt for an engaging medium such as animation.
So which video metrics are of more use?
Find Out Who is Watching
If you know who has watched your video, and which videos each individual has watched across your website then you can continue with a more targeted marketing approach that nurtures your prospects.
Image courtesy: wistia
If your website visitors have previously volunteered their email address, through a survey or free trial, for example, then using a video player that matches the IP address of a viewers with his/her email address in your system can be useful in many ways. By ascertaining which videos they have watched, you can plan your next marketing steps. Has a consumer watched your pricing video but neglected to watch your product overview? If they have not yet made a purchase through your site, then the indication is that more information about the benefits of your product could be of use. So you can then send them a link to your product overview video.
In addition to helping you to direct suggestions and promotional content to consumers, this video analysis tool can assist your sales team when conversing with potential customers. They can have more targeted conversations because they can see exactly which parts of each video an individual has watched. Finally, by cross referencing viewing activity with other pieces of information on user behaviour in your system, you can gauge whether videos are actually attracting and engaging the right people to encourage conversions.
Analyse Video Play Rate
The play rate of a video is the percentage of people who watch the video divided by the total number of people who visit the page that it is embedded on. This indicates how attractive your video has been to those consumers who have actually visited your page.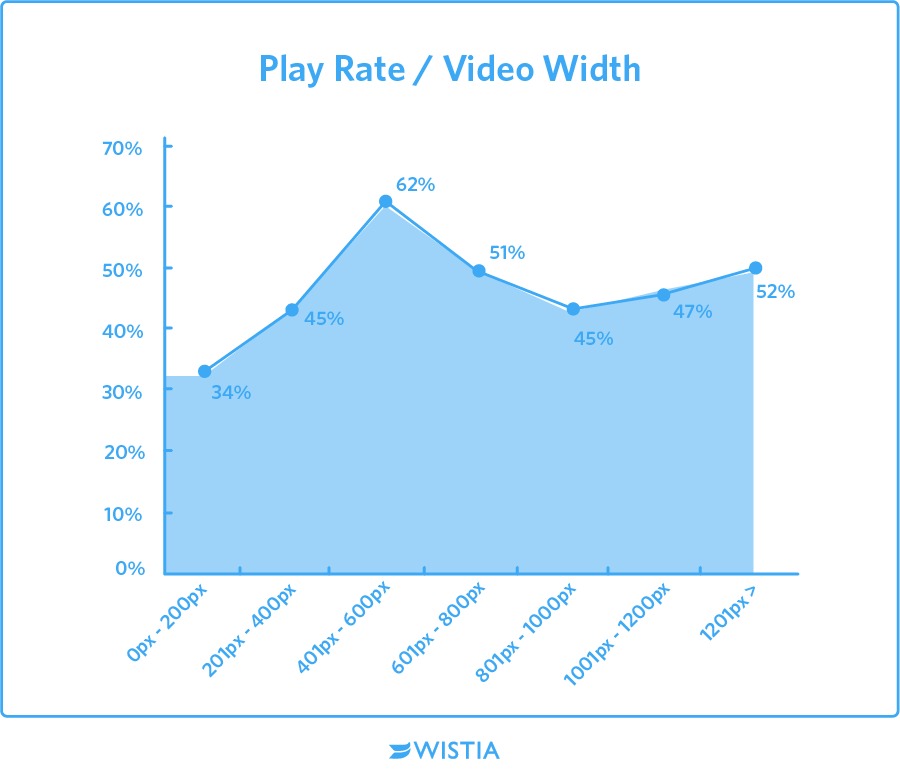 A high play rate suggests your video has a strong initial appeal, so the concept and placement you have chosen for your video are good. For instance, it suggests that the page you embedded the video on was a good choice, and that the video description is intriguing. Play rate can also be an indicator of whether your video thumbnail is attractive or whether you need to choose something more eye-catching. Overall, the information you procure can help you to optimise the context in which people view your video, so that you can further increase its play rate. A play rate of 50% or above is considered ideal.
Assess Average Engagement Levels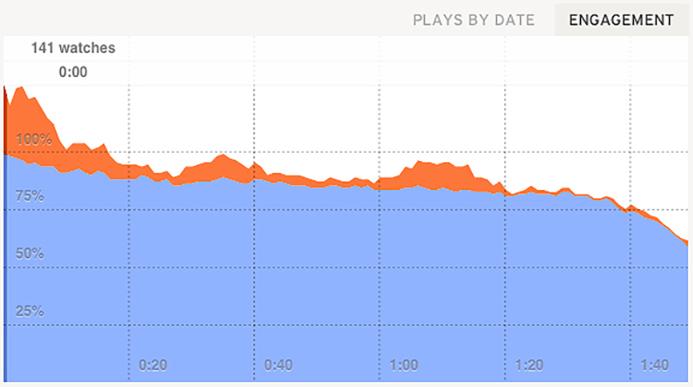 Image courtesy: wistia
This metric tells you what proportion of your video viewers have watched. Of course, the more they watch, the better. If most people click away after just four seconds, then you know that you are not meeting viewer expectations and requirements. Conversely, a high average engagement shows that your video is sharing valuable information clearly. You could also take your analysis one step further and see who is rewatching your video. If parts of your video with a creative animation has been rewatched, then this indicates that similar animation techniques should be used in future videos.
Measure Action Completions
Another valuable metric to measure is the number of viewers who complete your calls to action. Has your video helped to drive this number up? If not, then perhaps a shorter video would create more impact, or perhaps moving your video to a different page altogether. Also, It is also worth looking at whether the conversions being completed coincide with the call-to-action in your video, as this can again help you to assess what part your video plays in the page's success. Some pages may be better off with videos, while others can create more conversions without. This video metric can help you to assess where your video is best placed to increase call-to-action completions and provide the highest returns.
Look at Comments and Social Shares
If someone likes your video enough to comment on it, that is a great sign. And if they share it with their friends or professional contacts, then this is a sure signal your video includes valuable content and is making an impact. At the end of the day, if your video has a strong appeal, it will get shared with new audience members without any effort from you, which is fantastic. This can result in more people volunteering their contact information and more customers. In addition, as the provider of this valuable video, you will gain a good reputation for your business.
When it comes to the comments your video encourages, this can be very telling of where your video excels and where it lacks appeal. You can respond to comments by providing positive feedback, and so doing start a community via comments. A rich discussion will provide your video with even greater appeal.
If consumers don't watch your video, your message will have no impact, so applying these top video metrics to your content can make the difference between huge success and a wasted investment. At our Animation Company, our team is skilled in not just producing highly attractive and engaging animations, but also in measuring their success.
To discuss producing a well targeted animated video that presents positive video metrics and provides a high return on investment, get in touch with our video production team today on 0208 891 2077.
This post is by Warren Green.
Related Posts