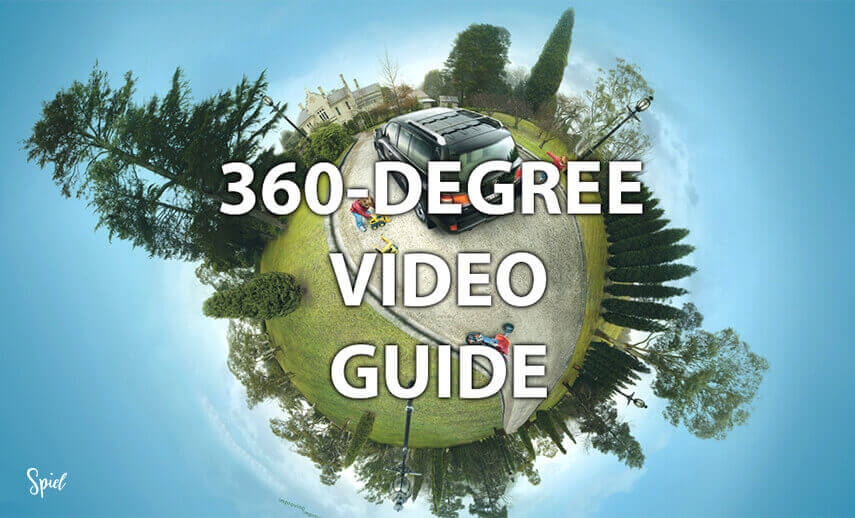 This article is all about 360-degree videos.
In it, you will learn:
What they are.
How you can create your own successful 360-degree videos.
And…
How they can help grow your business!
So, let's begin…
What are 360-degree videos?
360-degree videos are exactly what they sound like: recordings made using omnidirectional cameras so that, during playback, the viewer can control the screen and view the clip in any direction they want.
It is a new and exciting format and has the potential to create stunning and realistic virtual experiences for the viewer. And Google is reporting that it can increase the chances of viewers taking action by 41% when compared to standard ads.
"Google is reporting that it can increase the chances of viewers taking action by 41% when compared to standard ads."
High-end, professional 360-degree videos are usually made with specialised camera rigs that can run into the thousands. So, if it's a big-budget brand advertisement you want, you might want to consider collaborating with a 360-degree video agency.
Luckily, smaller handheld 360-degree cameras have come onto the market in the last couple of years for as little as £100. And some of them record better quality footage than you might imagine.
Here is everything you need to know:
A Guide to Creating 360-Degree Video
1. Have a Good Reason to Create a 360-Degree Video
Creating 360-degree videos is rarely a complete necessity, so, if you are planning to make one, you should have a very good reason.
Although it is a very modern format, the analogy I would use to describe what I mean by this is people making black and white films in the 21st century.
Hear me out:
Filming in black and white is no longer necessary, so, if someone does it just for the sake of it, it is likely to come across as pretentious or a desperate attempt to look cool.
On the other hand, if it's a creative decision taken to show the 'colourless' mood of a place or situation, or to recreate a historical time period, then it's perfectly justified.
The same applies to your 360-degree videos. What exactly is your reason for using it? If you don't have a good answer to this, perhaps you should reconsider your need.
Good reasons can include:
Virtual Reality
If you offer a service that could be defined as an 'experience', say guided tours at a certain destination or natural wonder, then create beautiful, HD videos of those tours.
Giving people the option to look in any direction they want is understandable and even necessary in this case. The realistic experience will engage viewers and it is likely to be the factor that encourages many of them to do the tour in real life.
Immersive Experience
Admittedly, this sounds like the same thing as virtual reality. But, the key distinction I'm marking here is that an immersive experience isn't a recreation of the actual product you are selling, i.e. a guided tour.
For example, let's suppose your business sells mountain bikes or mountain bike equipment. Your audience are thrill seekers who want excitement. So, why not create a 360-degree advertisement depicting a professional mountain biker racing down a mountainside weaving between trees at high speed?
Given the target audience, I can't think of a more suitable format than 360-degree video to grab the viewers' attention and engage them throughout.
Training
The problem with most corporate training videos is that they are a tedious pain to watch: usually featuring an uncomfortable narrator (chosen from the office, of course) awkwardly running through some generic compliance training course.
With 360-degree video this doesn't have to be the case. Now you can create enjoyable 360 interactive video experiences for your staff, allowing them to see company protocols in action.
Of course, 360-degree videos aren't just limited to corporate training videos.
For instance, they could be made to help new staff or students get to know buildings by allowing them to explore them virtually.
Or teach the viewer how to play poker by sitting them at a poker table and giving them the ability to look around at everything happening during a game.
Art
360-degree video gives video artists a whole world of new possibilities to play with.
Some examples of creative uses for the format that jump to mind are:
360-degree virtual experiences of live musical performances. Imagine being on stage with your favourite band!
Life-like immersive filmmaking. Imagine being inside your favourite drama, paying attention to whatever details most interest you.
A virtual tour of an artist's gallery exhibition with all the names, details, and prices of their paintings popping up in motion graphic form.
2. Set Goals for Your 360-Degree Video
Now that you have a good reason for making a 360-degree video, it's important to set measurable goals for it before proceeding with production. Having measurable goals will shape the content and allow you to gather tangible metrics to see if the video has been a success.
For example, let's outline goals for some of the videos mentioned in step 1:
Virtual Guided Tour of a Place of Interest
A reasonable goal for this video would be to 'Encourage 20% more summer visitors to the attraction than last year.'
So, what would this mean for the video?
Firstly, it suggests that it should be a high-impact Hero video that sits at the top of your sales funnel.
To learn all about Hero content and the sales funnel, just follow this link.
Therefore, it will be more about increasing awareness, generating hype, and showing off the experience in its full glory than it will be about explaining details, such as historical or geographical facts, prices, opening times, etc.
Immersive Downhill Mountain Bike Experience
Your goal, if you are a mountain bike company, might be something like 'Increase my conversion rate by 30% by quelling doubts people have about the durability of our products.'
This video will, therefore, be more about encouraging leads who are on the fence to make a purchase.
Hub videos (also in this article) would be ideal in this situation. They quell any doubts clients might have by demonstrating how they are unfounded through, for example, product demonstration.
This suggests that, in your video, you should push your product to the limit of a professional mountain biker's ability. Show the audience that it functions under the most extreme circumstances just as well or even better than the competition.
Realistic Poker Training
If you are an online gambling site, for example, your goal for this video might be 'Increase traffic to my website by 25 people per day within 6 months.'
After doing some research, you find out that one of the most common questions asked online (relating to your industry) is 'How do you play poker?'. This is a perfect opportunity for a Hygiene video (again covered in the same article) that drives browser traffic towards your website.
It will achieve this because now when people Google 'How do you play poker?', they will come across your video titled 'How to play poker.' Their interest will naturally bring them to your site and product.
This all suggests that the content of the video should be more informative than emotive. It should give the viewer genuine value through an easy-to-follow guide that tells them everything they need to know about playing the game of poker.
Virtual Art Exhibition
If you are an artist, artist's agent, or gallery owner, more than likely you will be looking to get your work seen by as many people as possible. So, for your 360-degree video, your goal might be something like 'Grow art sales by 50% in 3 months.'
This suggests that you want a video that is going to attract the attention of art lovers in as many places as possible online. And, not only that, it should make the art desirable and inform the viewers how or where they can buy it.
3. Choose Your Format: Monoscopic Versus Stereoscopic
Before you go and buy a 360-degree camera, you're going to need to choose whether you want to shoot in monoscopic or stereoscopic. Here is what that means:
Monoscopic
This is more common than stereoscopic and for that reason is supported by all the big social media and video platforms, like Vimeo, Facebook, and YouTube.
Monoscopic are flat equirectangular renderings projected into spherical videos or images, like viewing the world map on a globe. It gives you the ability to move around the sphere as if you were inside it. The most well-known example is Google Maps Street View.
It is much cheaper than stereoscopic but it doesn't give you any real depth perception.
Stereoscopic
These videos offer a 3D, virtual reality experience with real depth. But, be warned, they are extremely difficult to get right and can really only be done by professionals.
This is because if even the slightest flaw is made during stitching (something I will get onto later) it is magnified by the 3D, making it uncomfortable to watch or even unwatchable all together.
Planning and perfectionism are key here, so, if you do choose to make a stereoscopic video, always seek a professional with experience.
4. Acquire the Right Camera
If you choose to create stereoscopic 360-degree videos you will more than likely be hiring professionals who come with their own equipment. For that reason, and to avoid numbers in the thousands, this section will focus mostly on the best personal monoscopic cameras currently available.
Given 3 different price brackets, low-end, mid-range, and high-end, these are my favourites:
Samsung Gear 360 (2017) – Best Low-End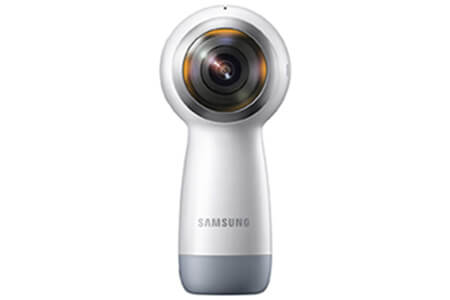 Usually about £200 (but can be found cheaper online), this little camera is excellent value for money. Its easy-to-grasp body means you don't necessarily need a tripod. That said, it might be worth getting one if you want to reduce video shakiness as much as possible.
Here is an example of the quality you can expect to achieve with a Samsung Gear 360 (2017):
It has 2 dual fisheye lenses and its 4K HD format delivers a maximum shooting resolution of 4096 x 2048.
As you can see from this clip, it doesn't create perfect, high-quality videos or nearly achieve the same image quality as normal 4K cameras. This is because the field of view is spread over a much wider area, in a sense diluting the resolution.
However, for this price, this is as good as you can expect to get at present. If perfect quality is a necessity, you really will need to spend hundreds more.
Here are some further details about the Samsung Gear 360 (2017):
The battery life lasts about 130 minutes
Up to 256GB expandable memory
It has a live broadcast feature compatible with PC and smartphone.
It has a great time-lapse feature
Insta360 One X – Best Mid-Range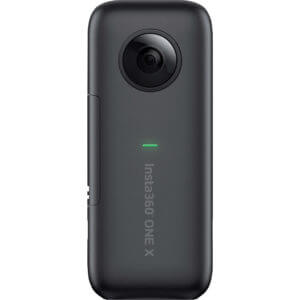 This small and sleek 360-degree camera offers a lot of value for money. Usually priced at around the £400 mark, it is marketed as an 'action camera' that creates smooth and sharp videos in the most extreme scenarios.
Here is an example of the quality you can expect to achieve with your Insta360 One X action video:
It has a resolution of 5.7K (5760 x 2880), which, when mixed with its built-in FlowState stabilisation, reduces shaking and creates amazingly smooth and clear images given the price.
As exhibited in the clip above, it has intuitive editing and time shift features that allow you to create cinematic videos. And you can also even add your own music and effects in the app.
Here are some further details about the Insta360 One X:
It can be paired with their invisible selfie stick, underwater case, and Drifter accessory, the latter allowing it to take flight and capture otherwise impossible angles
You can track your journey on-screen with stats like speed, altitude, direction, and slope
It features WiFi transfer as well the ability to connect manually via USB
Livestream your 360-degree videos
1 hour of continuous shooting batter life (longer with the WiFi turned off)
GoPro Fusion – Best High-End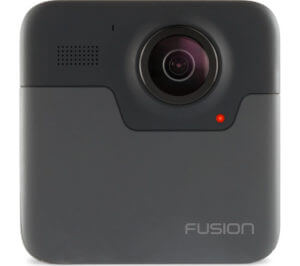 Going for around £600, the GoPro Fusion is designed with function and action in mind, and, as a result, records amazingly clear 360-degree videos for its price.
Here is an example of it in action:
The GoPro Fusion achieves this quality because it combines 5K resolution with more advanced optic lenses than any alternative. It doesn't appear perfectly HD, but it is the best you can do without coughing up thousands of pounds on a professional rig.
It's Protune video mode gives you the ability to adjust ISO and exposure for different lighting conditions and offers more scope for post-production editing.
Here are some further details about the GoPro Fusion:
It's waterproof as it is, without the need for additional casing
Its built-in stabilisation can make even the shakiest of videos smooth
It stitches 360-degree videos perfectly, without any seam lines
The battery lasts for 1.5 hours of recording
5. Export Your Footage
When you export your footage from your 360-degree device and play it back on a regular video player, it's not going to look right. That's because your regular player is not 360-degree capable.
It will look like one of these formats:
Equirectangular Projection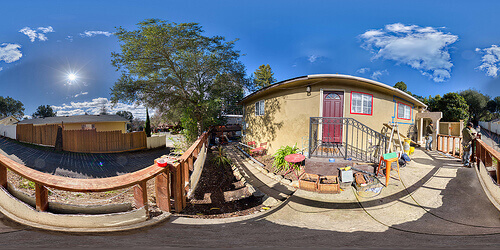 This format flattens your spherical 3D images onto a 2D rectangular surface, just like flattening the globe onto a map, so you can see all angles in one distorted image. This is the format that all 360-degree videos are edited in, so, if possible, save yourself some hassle and export in this format.
Fisheye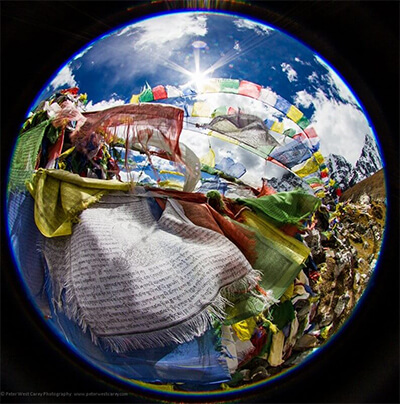 Your video appears as a circular image in the middle of the screen. Your camera is at the very centre and the spherical, out of proportion images it captured are projected outwards onto the flat surface.
Dual Fisheye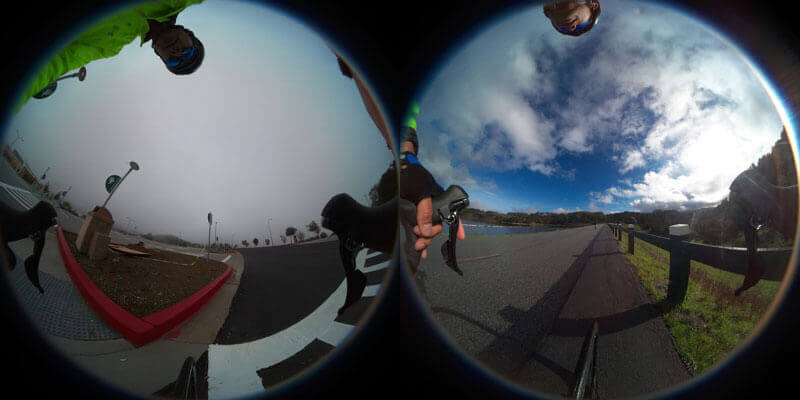 If your camera is dual lens, both will record 180-degrees each. In this case, they will look the same as the fisheye lens on screen, except there will be two distorted circles side-to-side.
For both fisheye and dual fisheye (unless, of course, you'd like to keep the fisheye aesthetic as is), you will need editing software in order to convert them into the equirectangular format.
Luckily, there are now a number of free video maker tools available that can do this. The best option being a combination of Kodak PixPro SP360 and Kodak PixPro 360 Stitch, which you can download here.
6. Stitch and Edit Your Footage
If your 360-degree camera doesn't come with an auto stitch output, I'm sorry to be the barer of bad news: you're not out of those hot software waters just yet.
Your camera will produce raw footage of the entire 360-degree field of vision, which needs to be combined and overlapped to create a single screen panoramic video. This process is called stitching.
In other words, you're going to need more software. Here are some of the best stitching tools currently available:
With an annual subscription starting at $495 (free trial also available), Mocha VR is an affordable and convenient stitching tool that can be used as a standalone program or as a plugin for a number of editing software programs such as Adobe After Effects.
StereoStitch's annual subscription starts at $300 for their basic back-to-back real-time stitcher and goes as high as $3000 for their live stereo stitcher.
Their software is great because it saves time and effort with real-time stitching and automatically performs colour correction.
This versatile video editing software starts at just £20 a month. You will of course want to edit your 360-degree videos just as you would aby regular video, and with Adobe Premier Pro you can stitch and do this all in the one place.
7. Incorporate Sound Design
Sound design is an important factor for most videos when creating emotional impact and enhancing the overall perception.
Always bear in mind that your viewers want to be given an experience that transports them, and music and sound effects are a great way to achieve this.
Even if you want to make a virtual reality video that is completely free of music and effects, you still might need to remove any unwanted background noise. Taking out things like a passing car horn or a distracting background laugh will all help to make your video as professional as possible.
8. Convert it to a Normal Video for Maximum Visibility
This isn't a wholly necessary step, but a situation could arise in which you want to convert your 360-degree video in a normal flat video.
Perhaps you want to create an alternative campaign to your 360 one, maybe there are specific angles and things you want people to see, or maybe you just want to publish it on platforms that are not 360-degree capable.
Whatever it might be, it can be easily achieved with tools like VideoStudio. Their step-by-step instructions are very convenient and their view tracker icon allows you to choose the angles that you most want to show off.
9. Publish your 360-Degree Videos
It is a testament to the growing popularity of 360-degree video that all of the major video platforms now support it. Vimeo, Facebook, YouTube, as well as lesser known, specialist platforms like VeeR all included
"It is a testament to the growing popularity of 360-degree video that all of the major video platforms now support it. Vimeo, Facebook, YouTube, as well as lesser known, specialist platforms like VeeR all included."
Which ones you choose to publish your videos on will depend on many factors. For instance, you might pick YouTube for reach and visibility or you might pick Vimeo for stylistic or aesthetic brand considerations.
Follow this video marketing article and click 'Choosing Promotional Platforms for Your Content' in the contents to find a more detailed breakdown of best practises and considerations for publishing on different platforms.
There you will find information about things like ideal posting times, keywords, video descriptions, testing performance, and getting your videos noticed.
How Much does a 360-Degree Video Cost?
The price range for 360-degree videos is truly enormous because there are so many considerations to factor in. Things such as:
Are you doing it yourself or hiring professionals?
Is it live-action, animation, or a mix of the 2?
Are there actors and film crew involved or is it real footage?
What quality level does it need to be? Is HD important to the goal of your video?
What length is the clip?
Is it just a single video or is an entire 360 series or campaign required?
Then, once these questions are answered, there is another level of factors that will further affect cost. They include:
The calibre of the professional agency or actors you work with
Is promotion, testing, and analysis services you require?
The style and quality of the animation if necessary (3D is generally the most expensive)
The camera you purchase if doing it yourself
Given all of this, the cheapest option could be a few hundred pounds plus a lot of your time and effort.
The price for a single video could reach as much as £50,000. For a campaign, you're into the hundreds of thousands.
Top 10 Tips for Finding the Right 360-Degree Video Production Company
1. Outline Your Goals First
Doing this before contacting agencies has 2 major benefits:
It means you can target companies that have achieved similar goals for their clients in the past. And, once you do contact them, it will give them purposeful direction for your campaign.
2. A Single Video or a Campaign?
Will a single 360-degree video or a 360-degree video campaign best serve your goals? If you are unsure, a good agency will help you gain an understanding of what is needed.
3. Do Your Homework
Examine every potential agency's portfolio. If it looks like they are experienced and capable of achieving what you have in mind, then they're obviously a good bet.
4. Develop a Brief
The final step before actually contacting agencies is to put the campaign's mission and key messages, as well as your brand ethos, into words that garner the full support of your team.
This will do a lot of the initial work for the company and get you off to a great start.
5. Learn About the Team
It's easy to end up communicating everything through the business development or sales teams, never learning anything about the actual creative production side of the company.
You should try to avoid this because you want to be able to decide if their skill set covers all of your specific requirements. Do they have art directors, writers, producers, strategists, etc.?
6. Is it a Collaboration?
Does the agency seem genuinely interested in learning about your brand and enthusiastic about the campaign or do they seem to be simply treating it as a business transaction?
If you feel they are more interested in the money that the work, they are not likely to take the right steps needed to achieve your goals.
7. Be Open to Professional Opinion
There would be no point doing the first 6 tips if you don't take on board the opinions and suggestions of your chosen agency once work begins.
Treat it as a collaboration and, if any disagreements do arise, do your best to find common ground. Given the agencies track record, it is very likely that they have a good reason for making objections or recommendations.
8. Set a Realistic Schedule
The schedule for the video might be longer than you think.
Remember that you should factor in things like planning, at least 2 drafts of scriptwriting and storyboarding (if necessary), as well as reviewing and giving feedback at every stage of production.
On top of that, unforeseen events can cause delays. Especially with live-action. A good agency will help you come to an appropriate timeframe.
9. Be Realistic with Your Budget
When it comes to professional 360-degree video production, you really do get what you pay for. So, if it sounds too good to be true, it probably is.
As I've mentioned, coming to an appropriate budget is a complicated process. So, speak to your 360-degree video agency about it and they will inform you of their approach.
10. Enjoy It!
It's not every day you get to work on something as creative and interesting as a 360-degree video project, so make sure to have fun and enjoy the process!
"It's not every day you get to work on something as creative and interesting as a 360-degree video project, so make sure to have fun and enjoy the process!"
17 of the World's Best 360-Degree Videos
Journey to the Edge of Space
Just to reinforce the idea that 360-degree video is all about creating an experience for the viewer, let's start with this amazing, award-winning example.
Brought to us by YouTube channel SeekerVR, it gives us a feeling of what it's like to leave the Earth and travel 90,000 feet into the stratosphere.
Lions 360°
One unique possibility of 360 interactive videos is that they can place us in situations that would be impossible in reality. That is precisely what National Geographic do here.
In the clip, we are placed among a pride of lions and, as the narrator tells us about them, it really gives us a feeling for what their reality is like. Perhaps this is a small glimpse at the future of nature documentaries?
The Future of Music
I mentioned earlier that there are endless artistic possibilities for 360-degree video, and I think electronic music platform Hello Play! have proved my point perfectly with this clip.
It is a surreal music mockumentary in which composer 'Carré Bleu' opens up about his bizarre (to say the least) music production methods. A viral video made possible by 360-degree technology.
The World of filled Cupcake-Flavoured Oreos
Cookie brand Oreo decided 360-degree video was the perfect way to create a fun, Willy Wonka-style advert for the launch of their latest cookie.
The chocolaty, animated, 3D world they create is perfect for grabbing the attention and imagination of young people (and a lot of adults too I imagine).
Snowboard and Freeski Experience
Samsung has garnered almost a million views for this snowboarding VR video promoting their 360-degree cameras.
It gives us the exhilarating perspective of a professional flying down a mountain and performing all sorts of mid-air tricks.
Rome: A Guided City Tour
Award-winning virtual reality channel VR Gorilla created this popular video in 2017.
It is a 360-degree tour of Rome. Perfect for those who are thinking about going or for whatever reason can't get their themselves.
Stranger Things
World-renowned media-services provider Netflix has taken to making 360-degree advertisements in recent years for some of their popular shows.
This clip places the viewer in the middle of one of the most terrifying scenes in the hit show Stranger Things.
A Drive Through Time
Nissan's luxury vehicle division Infiniti created this VR experience to advertise their high-performance Q60 Concept car.
Titled 'Dream Road', it puts viewers in the driver's seat and gives them an idea of the car's capabilities as it rallies through various different landscapes.
Colgate
You might need to turn on subtitles for this one, but it is a great example of how a brand can use 360-degree video to create an ad that goes viral. In this case, almost 30 million views!
It is a perfect piece of marketing by Colgate, advertising their product by giving the viewer an unusual: the inside of a patient's mouth during a visit to the dentist.
Cockpit View
This one is for all the airplane-obsessed people (and with 15 million views, there is a lot of you out there!).
In this clip, the viewer is up front and centre in the cockpit of a Swiss Airbus A320 flying from Geneva to Zurich. Not the whole flight thankfully, just take off and landing.
Tomorrowland 2014
I have already mentioned that you could make a 360-degree concert video. Well, Belgian music festival Tomorrowland went one better and created a 360-degree festival promo back in 2014.
In it, we experience the festival from many vantage points: on stage, in the campsite, in the audience, and from a helicopter overhead.
The Starry Night
Of all the 360-degree videos I've come across, this is undoubtedly my favourite. A virtual tour of Vincent Van Gogh's 'The Starry Night'!
This stunning animated clip brings the painting to life by taking us down the streets of Saint-Rémy as they are depicted with the sky spiralling overhead. It ends, fittingly, in his bedroom in Arles.
A Visit to Mars
With new technological advancements in animation, you can even use 360-degree video to explore other worlds. Here we have an unrestricted view of Mars and the space around it from near-orbit.
Note how sound design, music in this case, adds another level of majesty and emotional impact to the clip.
Miracle of Life
In this 5-minute video, we are given a dramatic 360-degree view of the journey all of us have gone through in the womb, from conception through to a fully-formed baby.
Here we see the potential power of 360-degree videos to educate the audience in a much more engaging and memorable way.
The Future of Compliance Risk Training
Here we have a prime example of something I discussed earlier: 360-degree compliance training.
The clip was made by global management consulting and professional services firm Accenture to teach people how to comply to organisation standards in some complex scenarios.
Foals – Mountain at my Gates
Here is another prime example of the 360 interactive video format being used to create a piece of art. It comes from British band Foals for their single Mountain at my Gates.
See how they have edited the footage to show multiple variations of the band's performance simultaneously.
Live the Game
Yes, it turns out that all of the 360 video ideas I had at the start of this article already exist! Here, online network 888poker put us in the middle of the action for a real game of poker.
It is obviously not the best quality video in the world. But it is a good example of how you can create regular and affordable 360 Hub videos that encourage people to stay in contact with your brand.
Conclusion
I hope this article has helped you learn all about 360-degree videos.
If you have decided to make your videos yourself, be prepared to spend a lot of time and effort getting to grips with the camera technology and software at the beginning. Remember that, in the long run, it could really pay off for your business.
If you have chosen to work with a professional agency, do your research and always treat it like a creative collaboration rather than a business transaction.
If you have any questions or comments, please leave them in the comments section below. I'd be happy to respond.
If you would like to learn about other ways to make your videos interactive, check out this guide.
The team at Spiel have a wide range of experience creating 360 degree videos for a variety of brands. If you think we can help you, get in touch with our 360 degree videos company or on 0208 891 2077.