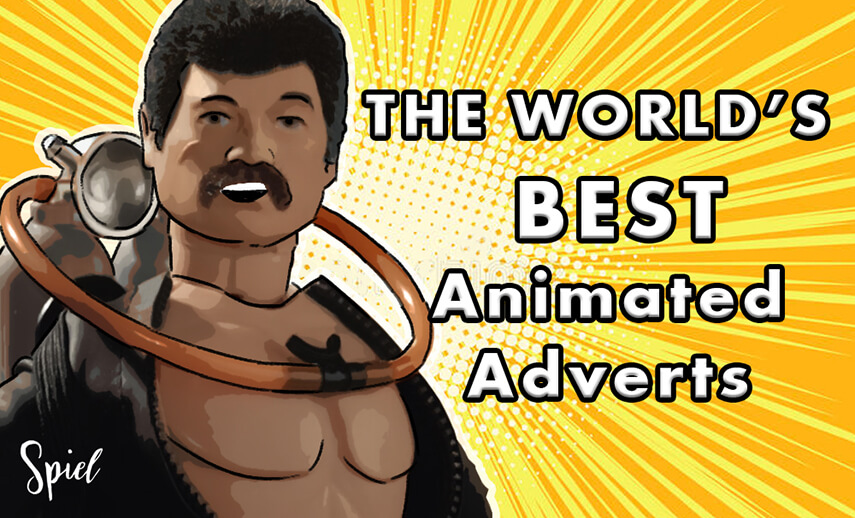 Imagine if you could engage a wide audience with your product or service using just a few simple video marketing tactics employed by some of the world's most successful animated adverts.
Or, even better:
What if there were 9 of these tactics, with real-life examples, and each of them took a completely different approach depending on the type of product or service being advertised?
You'd probably be excited to learn about them!
Luckily for you, that's precisely what I'm going to share with you in this post:
9 amazingly actionable tips from the world's best animated adverts that you can use to formulate ideas for your very own campaign.
McVitie's: Sweeter Together
In early 2018, major British biscuit company McVitie's launched a £9.7m masterbrand campaign entitled 'Sweeter Together' in a bid to cement their position as the UK's number 1 sweet biscuit brand.
In their first 60-second advert, they used 3D animation to depict an increasingly melancholy crane operator trying to connect with his co-workers on the ground below. But, despite his persistent efforts, he is overlooked until finally he receives a cup of tea and some McVitie's biscuits on the iron beam that he is moving.
The ad connects strongly with the audience because it effectively shows how the smallest gestures can positively impact a person's day. It depicts McVitie's as a brand that can enable everyday moments of human connection and bring people closer together, encapsulated by the tagline 'Sometimes the little things are actually the really big things' at the end.
Loneliness is an increasingly hot topic in the digital age. It can often feel like the more complicated our lives become, and the more digital connections we make, the more isolated we can feel. This animated advert successfully taps into these societal issues by offering something as trivial as biscuits as a simple solution to bridge our gaps.
The campaign currently runs both digitally and on TV and thus far public reaction has been highly positive, with up to 70% of customers calling it attention-grabbing.
Key Learning Points
When it comes to your own advert, consider what positive impact your product or service has, or could have, on current issues. The more it relates to people's lives the more it will stick with them. And if it can resonate emotionally, all the better.
"When it comes to your own advert, consider what positive impact your product or service has, or could have, on current issues. The more it relates to people's lives the more it will stick with them."
Nespresso: on Ice
In 2017, coffee machine manufacturer Nespresso commissioned a series of Mediterranean-themed illustrations by Finish designer Pietari Posti to promote their limited-edition iced coffee blends. The campaign was entitled 'Nespresso on Ice' and was later made into a stylish animated advert.
The 30-second clip takes the viewer on a luxuriating journey around the Mediterranean with the aid of a holidaying woman, from a cliff-side infinity pool, to a peaceful green bay, to the deck of a private yacht, all linked together by a clinking glass of iced coffee.
This is a great animated advert in part thanks to the beauty of its animation, but also because of it's fantastic use of music and sound effects.
With an upbeat yet relaxing instrumental track alongside some of the sounds of summer – drinks pouring, ice cubes clinking, waves gently lapping, bushes rustling, birds and crickets chirping – it really transports you to a holiday ideal. Enticing you at the end with the words 'You're just a sip away'.
It's Pietari's series of illustrations, however, with their very modern aesthetic that still maintains an elegant sense of tradition, that keeps to viewer watching. We want to see what stunning location we find ourselves in next. It's no wonder the ad currently has over 150,000 views on YouTube.
Key Learning Points
Think of clever ways that you could utilize sound and music in your animated advert. People want to be transported, and, in some cases, it can much more effective to achieve this with sound effects rather than voiceover.
Hendrick's Gin: A Moving Picture
Since 2014, gin brand Hendrick's have been running a series of intricate, Monty Python-style cut out animated adverts playing on their obscure and eccentric identity. Although the company was only established in 1999, the campaign's nod to Victorian nostalgia gives the impression of a brand steeped in tradition.
In this 2015 video entitled 'A Moving Picture', they offer the viewer 'an invitation to open your mind and awaken to the peculiar.' The camera is continuously panning out for the entire 30-seconds clip, beginning in the eye of a fish and slowly moving through a range of bizarre scenes, from a gentleman with fangs wearing an eyepatch and sipping from a cocktail glass to a mermaid inside a crystal ball on a table of mismatched Victorian characters.
The female voiceover, telling us to open our minds wide, is reminiscent of early British broadcasting.
This animated advert is so effective because it bravely decides to own the fact that Hendrick's Gin can be an acquired taste. They are more than aware that a small number of people love them rather than many merely liking them. As they put it themselves: 'Loved by a tiny handful of people all over the world.'
With odd flavours such as cucumber and rose petal, it pays for Hendrick's Gin to appeal to the mature yet experimental side in us. So, it's no wonder the campaign still continues 4 years after it began, showing just how effective it has been.
Key Learning Points
Could your product or service benefit from making such a bold move? Perhaps its appeal is that it's not universally appealing? If so, taking the blunt approach in a playful way could really win you a dedicated customer base.
MoneySupermarket: Epic Action Man
Earlier this year, price comparison website MoneySupermarket, in collaboration with Mother, revealed the latest character in their 'Save Money and Feel Epic' campaign that has been running since 2011. It has proven so successful that the slogan is now universally recognised in households across Britain and Ireland.
In their latest animated advert, they use stop-motion effects to comically depict an Action Man doll dancing along to nineties disco track Finally by CeCe Peniston.
The advert opens with Action Man crouched down in an active war zone. A voice over his walkie-talkie says, 'Action Man, what's your status? Over.' His response: 'I just saved at MoneySupermarket, and now I feel epic!'
The remainder of the advert plays out as an elaborate dance scene, satirising Action Man's traditionally macho persona with overly flamboyant dancing and a cast of male backing dancers, climaxing with Action Man ripping off his uniform.
The ad ends with a blonde Action Man hanging from a helicopter, declaring, 'Action Man, you're so MoneySupermarket!'
I love this clip because it plays with gender roles and identity in a hilarious way. It's MoneySupermarket's brilliant use of comedy that has made the campaign so widely appealing for so long. If you can make someone laugh, they are not likely to forget it anytime soon.
'Every time one of these come out,' said Mother partner Hermeti Balarin, 'they get talked about more than the programs they interrupt. That's why this campaign has been epic.'
Key Learning Points
If your product or service allows for humour, don't be afraid to go for it! The more out there the better. People will soon have your brand message embedded in their mind.
Lyft: June: Life is Better When You Share the Ride
In 2016, on-demand transport company Lyft released a brilliant piece of modern adverting in collaboration with Academy Award-winning animator John Kahrs. The short, 7-minute movie entitled 'June: Life is Better When You Share the Ride' currently has close to 8 million views on YouTube, making it among the most watched adverts online in recent years.
Breaking the mould of traditional TV animated adverts, this narrative-driven film tells the story of a lonely widow in South Chicago who is inspired to start 'sharing the ride' and therefore also sharing her life. It features an original song Movin, written and performed by Lyft driver-turned-recording artist Sir the Baptist, who launched his music career after a connection with a Lyft passenger.
It opens with the protagonist, June, driving to the hair salon, where, while inside, her car is hit by a lorry. This prompts a flashback to the moment she met her husband, the original owner of the car. With a helpful push from her daughter, she is forced to start using Lyft.
When she finally does purchase a new car, a mix-up occurs where a passenger waiting for his Lyft driver mistakes her car for his ride and jumps in. Then, after witnessing a soldier miss his bus, she decides to offer him a lift. She enjoys having the company and decides to take the plunge and become a Lyft driver herself.
June enjoys meeting all sorts of new people and comes to be known affectionately as 'June Buggy' on social media. In the film's dramatic climax, she crashes in the snow while on her way to pick up a passenger. The passenger, seeing she has stopped on the app's GPS, recruits some friends to go out into the snow and rescue her.
Thanks to Lyft, June has overcome her isolation and has even started to build a community of people around her.
Similar to the McVitie's advert, we follow a lonely character, who we really want to root for, overcome that loneliness. The scenarios she finds herself in feel real thanks to her distinct idiosyncrasies: the anxiety of the first passenger, the initial fear of picking up someone that appears menacing and the awkwardness when a couple becomes intimate in the back seat all feel palpable.
The animation itself is sharp and intricate and honestly captures the atmosphere of Chicago. The scenes transition with a kaleidoscopic explosion of movement and colour.
And, on top of all that, it includes an original track by former Lyft driver Sir the Baptist. Having had a positive experience first-hand working for the company, he was able to effectively translate the community orientated nature of the brand into music.
Key Learning Points
You might not be able to hire an Oscar winner to help with your animated advert, but think of ways you could build compelling narratives around your product or service. Perhaps someone that works for you, or even one of your customers, has an inspiring or entertaining story about how your company has changed their life, if even in a small way. Storytelling is a powerful tool and people love the personal touch of a true story, especially if it's heart-warming.
"Perhaps someone that works for you, or even one of your customers, has an inspiring or entertaining story about how your company has changed their life, if even in a small way. Storytelling is a powerful tool and people love the personal touch of a true story, especially if it's heart-warming."
Android: Be Together, Not the Same
During the 2016 Academy Awards, Google's mobile operating system Android aired their latest animated advert entitled 'Be Together, Not the Same' for the first time. With its anti-bullying message, it was an immediate hit with viewers and was even described as 'the real winner of the Oscars.'
The 90-second clip set to John Parr's epic eighties hit Set Elmo's Fire (Man in Motion) features traditional enemies rock, paper and scissors, from the children's game of the same name, being bullied – the metaphor could hardly be clearer. However, in this case the rules have been changed: rather than bullying each other, the characters are being bullied by their own kind.
For instance, the advert opens with an anthropomorphic piece of paper on its first day at school. The hallway is lined with similarly anthropomorphic scissors staring back at it menacingly. Understandably, it is fearful and walks timidly past them with its eyes averted, only to bump into three fellow pieces of paper who turn out to be the real bullies.
Luckily, however, a scissors intervenes, scaring them away, and they become friends. Walking home, they come across two rocks bullying another rock. Angered, the paper scares them away and the three of them walk off into the sunset together as best of friends. The words 'be together, not the same' in the sky above them.
This animated advert proved to be such a crowd-pleaser thanks to its combination of adorable animation, simple and easy to follow premise and positively powerful message.
Here are some examples of praise it received on Twitter that night:
'Is that Android commercial with the Rock Paper Scissors nominated for anything?'
'Literally the cutest commercial ever @Android'
'Best commercial during the Oscars ceremony goes to…Android!'
Key Learning Points
So, when thinking about your own animated advert, what inspirational message could you tell? And to ensure audiences engage, how could you tell it in as simple yet clever a way as possible? Remember always to keep it uplifting – a classic, nostalgic track can be helpful.
Cadbury Screme Egg: Last Stand
In the run-up to Halloween 2012, confectionery company Cadbury's revealed their limited-edition green Creme Egg yolk with an animated advert that pays homage to classic horror movies such as Dawn of the Dead.
The clip, entitled 'Last Stand', depicts two regular (apart from the fact they can mumble unintelligibly and drive a car) Cadbury's Creme Eggs making a daring escape from a group of zombie-like Halloween Creme Eggs. With the help of a remote-control car, complete with whisk-scythed tires, they even manage to rescue a fellow Creme Egg from danger and run a few zombies over along the way, splatting their green yolks against the windshield.
In the dramatic climax, supported by a huge cinematic score, they scramble up a shoelace to the safety of a rescue helicopter above. As the camera pans away, the final aerial shot reveals three regular Cadbury's Creme Eggs stranded atop a barbeque lid next to the words 'Get Them While You Last'.
Because Creme Egg sales usually spike in the run-up to Easter, making a limited-edition egg for a holiday that falls at the opposite end of the year was a very clever move on Cadbury's part. It gave people a reason to buy them at a time when perhaps sales would normally be down.
Using their eggs to recreate some classic horror movie tropes allowed them to make an ad that was not only relevant and relatable, but also comically entertaining for the viewer.
Key Learning Points
Is your product or service likely to sell better at certain times of the year than others? Are you able to predict a lull in business based on previous years? If so, then timely holiday promotions could be your answer.
"Are you able to predict a lull in business based on previous years? If so, then timely holiday promotions could be your answer."
When trying to think of ideas for your limited-edition products or services, remember that popular culture is a treasure trove of great ideas. Tell a story that people already know, only in novel, entertaining or funny ways.
NewYork-Presbyterian: Unmasking A Killer
In 2016, non-profit university hospital NewYork-Presbyterian launched a striking ad campaign that dealt with the complex issues of cancer and immunotherapy entitled 'Unmasking a Killer'. In collaboration with acclaimed Israeli artist Noma Bar, it ambitiously sought to change the way medical advances can be explained to mass audiences and was initially aired during Super Bowl 50.
The 110-second clip consists of a continuously shape-shifting series of 2-D images in Noma Bar's deceptively simple, flat-colour style, which visually portrays the narrator's voiceover. These range from a space invader representing cancer as an intruder to a wolf in sheep's clothing as our bodies' inability often to detect it.
The combination of NewYork-Presbyterian's succinct script and Seiden Advertising's
uncomplicated animation allows this animated advert to effortlessly explain an extremely complicated topic like immunotherapy in layman's terms.
It's almost self-explanatory why this advert is so great. Its power lies in its simple delivery, which manages to take a complex and noble cause and not only makes it understandable but also personally relevant. Deservingly, it picked up two Clio Health Awards for Short Form Film and Animated Film Technique that year.
When compared to NewYork-Presbyterian's previous, more tradition adverts relating to cancer, 'Unmasking A Killer' engaged an audience almost 150 times larger! A statistic that really conveys its effectiveness and importance.
Key Learning Points
Is your product or service complicated and difficult to explain in a short clip? If that's the case, think of how you could create a concise script that speaks to people who are unfamiliar with what it is you're selling. Combining this with an equally simple yet vivid 2-D animation can be a powerful way of getting your message across.
Argos: Aliens #NameOurBaby
From 2011, British retailer Argos aired a series of ads that combined animation with live action and followed the lives of a family of lovable, CGI aliens.
In this 2013 clip, an alien couple, who fit in remarkably inconspicuously on Earth, learn they are pregnant – apparently it's their males that carry the baby. We then follow them through all the steps leading up to the big day: the ultrasound scan, the first kicks, the antenatal classes, decorating the baby's room…until finally the grinning new-born is revealed.
In a bid to boost their social media interactions, Argos asked viewers to name the baby and tweet their ideas using the hashtag #NameOurBaby.
Campaign magazine listed it as one of the most recalled adverts at the time. The odd combination of live action and animation can really stick with people. And leaving part of the story open to viewer interaction is a very clever way of getting the audience invested enough to talk about it and, more importantly, share it on social media.
The hashtag elicited an interesting array of responses from which Argos chose the name 'Blue' for the baby alien.
Key Learning Points
If a combination of CGI and live action is out of your budget, think instead of ways to leave your story open to audience participation. Giving them a reason to interact can really boost its popularity on social media.
Conclusion
I hope this post has helped get the ball rolling on some ideas for your very own animated advert.
When comparing your product or service to these successful campaigns, which example(s) speak best to you?
Make sure to share some of your personal favourite animated adverts in the comments section below. I'd love to see them!
If you're ready to take your animated idea to the next stage, don't hesitate to get in touch with us on video production company on 0208 891 2077.