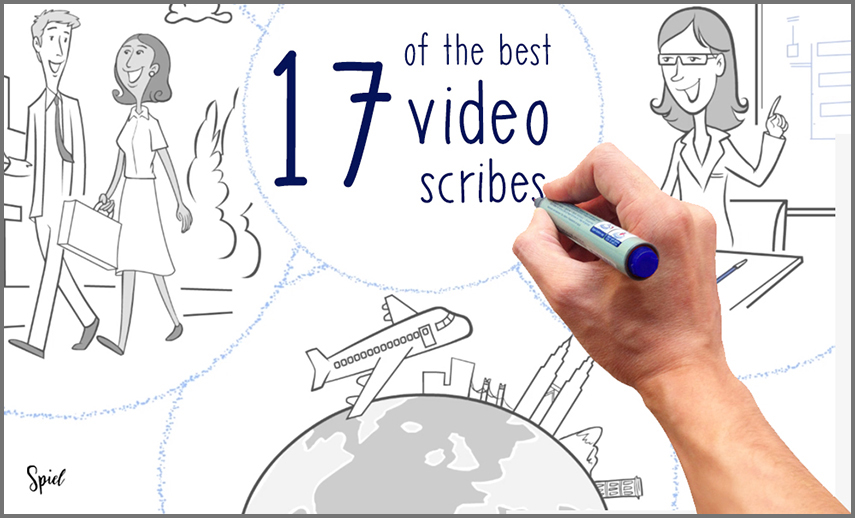 Picture a style of animated video that is not only affordable and multi-purposeful, but also backed by science to be one of the most attention-grabbing and engaging for audiences.
I can go one better:
Picture, in one place, 17 of the best examples of these videos along with the reasons why they are all so uniquely great.
I imagine you'd be thrilled to see them!
Well, luckily for you, that's exactly what I'm going to share in this article:
What you can learn from 17 of the world's best video scribes!
Natural History Museum
In 2014, the Natural History Museum in London teamed up with the video marketing agency Spiel to promote their latest exhibition, One Million Years of the Human Story, with an inspiring animation.
Far from a traditional prehistoric exhibition, its aim was to link modern human culture with the natural environment of Neanderthals. For that reason, a simple video scribe style was chosen for its ability to engage an audience while simultaneously communicating complex messages.
What I like most about this video scribe is its storytelling. With a strong script, it offers the viewer an emotional connection to our distant ancestors through a side by side comparison of our often trivial problems with their rather more perilous hardships.
If you can get your audience to pause and reflect on a fascinating topic, your video is far more likely to inspire action.
RSA Animate
The most watched video scribe of all time is the Royal Society of Arts' 2010 clip 'Drive: The Surprising Truth About What Motivates Us'. It was adapted from author Dan Pink's talk on the hidden truths behind what really influences us at home and in the workplace. Currently it has over 16.5 million views on YouTube!
Given the advancements in digital video scribing technology since, this video now appears somewhat dated. But what I still admire about it is its use of interconnecting drawings. The animations are continuously added to rather than always stopping and starting, frustrating the viewer.
Remember that your audience wants to witness the story physically take shape. Interconnecting drawings are a great way of achieving this and holding their attention.
Purina
In 2014, Nestlé's pet care brand Purina wanted to use video scribe to portray their healthy, all natural pet food in a uniquely eye-catching way.
To achieve this, they went beyond the standard conventions of the technique and, instead of marker on a white background, used pencil on a brown paper-like surface. The elegant, hand-sketched aesthetic of the final product really compliments their overall message.
The artistic style of this video speaks for itself. By combining many different animation techniques, such as tradition hand drawings, wood-cut illustrations, 2D and 3D, Purina successfully achieved their aim by doing something no one else had.
If the traditional methods fail to sufficiently represent the ethos of your brand, perhaps defying them could.
"If the traditional video scribe methods fail to sufficiently represent the ethos of your brand, perhaps defying them could."
"Weird Al" Yankovic
One of the most creative uses of video scribe I've come across is "Weird Al" Yankovic's 2014 Mission Statement music video. In it, he satirises meaningless buzzwords used too often in static corporate culture. And, in doing so, showed us that video scribe, in the right context, can also make great art.
Yes, the video is quite basic and perhaps even a little tedious, minus the psychedelic guitar solo in the middle, but that's the whole point! On YouTube, it has over 3 million views and 21,000 likes, proving how much its message has resonated with people.
Whether you're a musician or a writer, what ways could you use video scribe to enhance your art?
Baker Hughes
When Baker Hughes, a leading oil and gas field services company, came to Spiel, they wanted to pack a lot of information into a two-minute advertisement for their graduate careers program. Take a look at the dynamic video scribe the team here produced for them.
What I love about this clip, besides the script, is that it simultaneously adheres to the proven formulas for creating successful marketing videos while not limiting itself to the standard black on white video scribe style. What we have instead is different colour markers drawing onto a continuously changing background, resulting in a visually fascinating advert.
Digital technology and motion graphics are becoming increasingly versatile, giving you unlimited scope to create the video scribe that you have in mind.
UPS
Traditionally, video scribing was created by simply recording someone drawing the animation live while at the same time reciting the script. One of the very first companies to employ it as a marketing tool was multinational package delivery and supply chain management company UPS. The clip was created to promote their international shipping service back in 2007.
Given how difficult it is to competently pull off such a balancing act, digital animation has since become the far more popular approach. But, that's not to say that the traditional method doesn't still have its advantages in these visual times. On the contrary, if you're on a strict budget, have a relatively simple and straightforward message and know the perfect artist with buckets of charisma, it might just be the option for you.
Toyota Camry
To advertise the latest blind spot monitor feature on their Camry model, Toyota decided to make use of video scribe in this unusually short (15-second) clip for the format. As it's for a single feature rather than an entire product, however, they managed to pull it off rather skilfully. Notice its excellent use of motion graphics to depict the force of gravity.
Creating strong visual metaphors, such as representing a vehicle's blind spot as a black hole nothing can escape, can create long-lasting hold in the mind of the viewer.
If you had mere seconds to impact an audience, what strong visual metaphors could you think up to demonstrate your product or service?
Kristofer Ström
As far as anyone can tell, the video scribe technique can be traced back to this 2006 short animated movie entitled 'Hitchhiker's Choice'. Uploaded in the early days of YouTube by artist Kristofer Ström, it takes the viewer on a strange 4-minute trip with continuously transforming creatures set to the beat of an electronic instrumental track. Who knew the impact it would go on to have?
It's tough to extract much from this video that could be applied to a modern-day marketing campaign, apart from the fact that video scribe can be a lot of fun! With currently close to 6 million views on YouTube, there is no doubt that people can appreciate the format for its entertainment value alone.
Royal Society of Chemistry
Earlier this year, the Royal Society of Chemistry commissioned the latest video in their ongoing 3-year collaboration with Spiel. Its target audience was librarians. Its aim: tips for turning social media into a valuable tool for libraries, their staff and customers.
This 2-minute digital video scribe visually guides the viewer through each tip one at a time, moving left, right, up or down as the illustration expands. The specific effect employed that I particularly like, however, comes at the very end. The camera zooms out revealing the illustration in its entirety so that the audience can see the journey they've been taken on from start to finish.
Remember that the purpose of video scribe is to effortlessly guide your audience through your story. By revealing it all at the end, you are rewarding them for staying with you.
The Indigo Valley Coffee Company
In this 47-second clip for British coffee roasters Indigo Valley Coffee Company, we see a completely new style of video scribing. The illustrations are drawn with white chalk on a chalkboard background.
The advert is obviously not of the highest quality and was most likely done on a tight budget, but the point here is that it introduces to us to a whole new range of possibilities for the format.
In the hands of the right video scribe agency, a chalkboard advert could be brought to life with some additional features such as chalk sound effects, realistic writing and even some smudging. And, with motion graphics and a great scriptwriter at your disposal, there's the potential for something truly unique.
Oxfam
Global poverty alleviation organisation Oxfam decided that video scribe was the perfect way to bring an urgent and important cause to public attention. The 90-second clip, entitled 'Raising Her Voice', supports worldwide female participation, leadership and voice in politics.
This is a perfect example of how video scribe storytelling techniques can be used to powerful effect. A strong narrative with genuinely interesting information engages the viewer rather than boring them with a tedious list of bullet points relating to the organisation.
The illustrations are full and packed with enough facts and history to make multiple watches worth your while.
A good way to ensure your audience's attention doesn't wane is to build your story with thought-provoking content that your product or service fits neatly into, instead of having your product or service as the main focal point throughout.
Tempus Energy
British energy equipment and solutions company Tempus Energy released a video scribe advert in 2015 that shows the viewer how their renewable technology and algorithms can reduce household energy bills. The 90-second clip is a good example of a simple, low budget video scribe that follows the proven guidelines for maximum impact.
I like this video because, with a good script and uncomplicated visuals, it manages to boil some pretty complex solutions down to an easily digestible package that can be understood in layman's terms.
Its (minimal) use of colour is also worth noting. Besides the standard black on white, the only colour we see is red – the colour of the brand. When it comes to colour in your own video scribe, a safe bet is to only use that of your brand, and only during key moments in the video, such as the solution. That way people will intuitively associate you with the important messages you want to get across.
"When it comes to colour in your own video scribe, a safe bet is to only use that of your brand, and only during key moments in the video, such as the solution."
MLS
In 2015, leading library management company Micro Librarian Systems got in touch with Spiel to create a video all about the everyday benefits of reading purely for enjoyment. The 150-second clip was entitled 'Reading for Pleasure'.
This is a great example of a digital animation made for a universal audience. For adults, there are many fascinating facts to peak their interest, such as the correlation between independent reading and career success. For young children, its friendly, engaging and colourful cartoon style gives them a reason to engage with it also.
Sometimes the message you want to get across can be universal. So, what clever ways could you think up to ensure you hold the attention of your various demographics simultaneously?
Income.com
This 2013 video for online entrepreneur community Income.com brilliantly uses much-loved popular culture narratives to convey its message. A superhero (Income.com) must rescue the protagonist (their customers) from a horde of attacking zombies (negative people holding them back).
The quality of the illustration in this video is great, which is not necessarily always beneficial when it comes to customer conversions, but here it is justified. It really brings the strong emotions and scary characters in the clip to life, creating a highly entertaining experience for the viewer.
My one critique of it, however, is regarding the script. It's quite longwinded and takes a while to get to the point, and, when finally it does, the service Income.com are providing is kept vague and hard to understand.
A good way of coming up with concepts is to look to popular culture and, so long as it's somewhat relevant, apply it to your story. But keep the script succinct!
CarePredict
Senior healthcare monitoring technology company CarePredict created this compassionate video scribe back in 2015 for their bracelet sensor product Tempo.
The delicate subject in this video has been perfectly addressed in the script. All too often, live action adverts dealing with elderly assistance can look and sound patronising. With sleek animation, these blunders are far more easy to avoid.
I also like the overall flow and smooth transitioning of the illustration in this video scribe. The use of monitor sound effects alongside motion graphics and a fish lens-like view of the different rooms in the home all add to its appeal and success.
Perhaps your product or service solves a sensitive or personal problem? If so, then video scribe could be the innocuous and ultimately beneficial solution for your business.
IIED
In 2016, the International Institute of Environment and Development commissioned Spiel to create this long (4-minute) video scribe about the challenges climate change poses for developing countries and how their decentralized fund system can help them adapt.
The unusual length of this video comes down to its purpose. It's not advertising a specific product or service, but rather describing how the fund works in the real world and convincing the public why it's a worthy cause. Keep it in mind that video scribe has many potential functions other than pure advertisement.
Besides the great use of colour in this video, I like its choice of voiceover artist. By using someone with an African accent, the viewer automatically has a better understanding and a broader picture of what the video is trying to communicate to them.
When choosing your voiceover artist, it's important that you have a deep understanding of your customer demographics. You want someone who's voice encapsulates the attitude of your brand in order to best resonate with them. For instance, if most of your customers are middle-aged women, it's advisable to use a middle-aged woman's voice.
"When choosing your voiceover artist, it's important that you have a deep understanding of your customer demographics. You want someone who's voice encapsulates the attitude of your brand in order to best resonate with them."
Coca-Cola
Coca-Cola used video scribe for their 2-part business strategy video 'Content 2020'. The combined length of the two videos is 17 minutes and it proves that even the biggest brands in the world are seeing the engagement value of telling stories with video scribe.
This video is Coca-Cola's content marketing mission statement and it is a worthwhile watch for any marketing professional. It feels more like a strategic vision for the company's future created for their internal marketing teams than a clip for public consumption. Which makes it an incredible fact that it currently has over half a million views on YouTube!
Some of the main points touched on during the 9 chapters are Coca-Cola's move from creative to content excellence, their commitment to adding value to people's lives and their huge impact on popular culture.
Whether you're creating a new business strategy or having a marketing rebrand, video scribe is the perfect way to get the message across to your internal staff.
Conclusion
I hope this article has helped you gain a better understanding of video scribing and perhaps even helped form some ideas for your very own clip.
Also, check out our detailed step by step guide on how to produce a great video scribe here.
When comparing your business to these great examples, which speak best to you and your needs?
Please share any feedback you may have as well as some of your favourite video scribes in the comments section below. I'd love to see them and would be happy to answer any of your questions!
If you're ready to take your video scribe idea to the next stage, don't hesitate to get in contact with us at Spiel here or on 0208 891 2077.