The Benefits of Online Informational Videos
With it becoming increasingly difficult to get noticed on the net, an innovative and engaging approach is needed, and informational video offers just that.
Video is being used by organisations of every kind, worldwide, to inform potential customers of what they have to offer.
In fact, eMarketer statistics show that an astounding 93% of marketing professionals used video for online promotion in 2013.
The reason for this is no secret. The combined images and audio in video make for an engaging and pleasant experience, and their use has proved to bring great rewards.
Dropbox increased conversion rates by an impressive 10% after limiting their homepage to a single video.
Start-up companies and small businesses in particular are finding informational videos valuable for raising awareness of their product or service and brand.
Let us take a look at the range of ways these web videos can benefit your business.
1. Raise Awareness and Connect with Potential Customers
A well-produced informational video can convey a message in under a minute, with far more entertainment value than a page of text. The attractive nature of video entices viewers in, and the mix of images and sound are a great medium for sharing new and detailed information.
Informational video can therefore have great power in forming a bond with consumers, if they are targeted effectively. In order to appeal to the right audience, you should know the characteristics of your typical customer and use this knowledge to formulate your video's approach.
Once your audience has been attracted, video is a fantastic tool for educating them about what your company provides. Content throughout the video should draw on the interests and personalities of target viewers, in order to keep them engaged.
Video can be applied in a variety of ways to communicate with consumers, including:
Testimonials
Explainers
Problem solving tutorials
How-to videos
Advertising
Each of these uses the visual appeal of video, often making it easier to understand a process or concept, or making the benefits of a product clear.
Here's an example of an effective video by Barking Mad, which uses images, emotion, and an appealing voiceover to provide a clear explanation of the company's offer. A clear call-to-action at the end encourages interested viewers to make a conversion so that maximum potential for reaching the desired objective from the video is achieved.
2. Spread the Word
A high-quality animated video not only informs the viewer, but the wider community with whom it is shared. The more people that view your video, the more that will either make a conversion themselves or share their experience via social media so that others are inspired to watch.
YouTube, Twitter and Facebook are popular platforms for watching, sharing, linking and commenting on videos. Other impressed viewers will embed or link to the video on their websites.
The type of video, its message and its engagement value will influence how the video is shared online. This in turn has an impact on brand identity.
Original and creative videos are most likely to be memorable and boost brand recall. These memories can boost the effect of the video, as viewers who don't make an immediate conversion might do so in the future. Following this, and positive brand image, brand loyalty can increase considerably.
3. Communicate Brand Assets and Values
The information supplied in your video doesn't end with the focused message, but promotes the brand on a grand scale. Whatever type of video you produce, if it is well conceptualised, scripted and produced, it will show off many aspects of your organisation.
An informational video should encompass the values and ethics of the company as well as detail of what it offers. This will influence what type of consumer is attracted to watch the video to the end and make a conversion.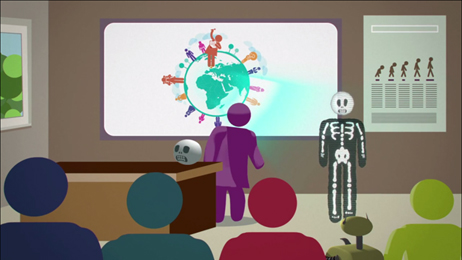 The desired brand image can also be transferred with a marketing video. Triggering emotions with a video is effective not only for engaging viewers, but also for showing the identity of a brand. It can give the brand a personality, which can resonate with customers.
The video could be placed on your website and across social media platforms to ensure maximum coverage for your promotional message.
4. Boost Search Engine Optimization (SEO)
Featuring a high-quality video across the web not only helps to promote your brand and communicate an important message, but it can also serve as a valuable tool for boosting your website's ranking in search engine results.
Fresh, relevant multimedia content on a webpage helps improve its SERP's positions as it enhances metrics such as social sharing and the average time spent by users on the page. This of course drives traffic to your site so more potential customers will see your video and other content.
It is beneficial to ensure that all content on your website is of high quality and is engaging, as this will encourage visitors to stay on the site even longer.
Supporting content for your video also needs to be considered. The title, description and summary should use relevant key words and phrases, so that it is located in associated searches. This is also important for raising SEO for videos on social platforms.
Transcripts applied to a video on YouTube can help to not only communicate your message to the hard of hearing, but also to help in raising SEO with the use of key words.
The scope of potential results gained through an informational video is broad. For more details of how a video can help your business, give our team a call on 020 8891 2077, or click here to learn more about the benefits of explainer videos.
What results has your organisation achieved after using web video? Let us know in our comments section below.
Related Posts